Abimael Guzmán, 79, who is already serving a life sentence, charged with Lima bombing 22 years ago
Monday 20 January 2014 20.21 EST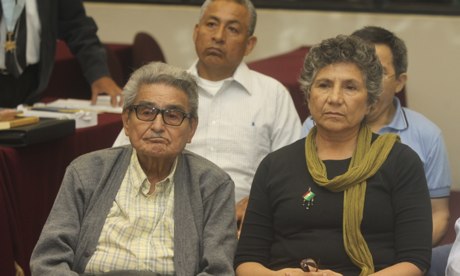 Abimael Guzmán, founder of Peru's Shining Path, and his wife Elena Iparraguirre, attend the trial in Lima.
Photograph: Reuters

After eight years hidden from the public view, Abimael Guzmán, 79, the one-time Shining Path leader, has appeared in court to face charges for the bombing of an upmarket street in Peru's capital Lima 22 years ago.


Already serving a life sentence, only Guzmán's grey hair and hunched figure was visible through the bullet-proof glass separating the gallery from the courtroom in the high-security naval base prison in Lima's port of Callao, where he is held.
It concluded that the Shining Path was the main perpetrator.


Far from the defiant fist-waving figure of his last court appearance in 2006, Guzman was a diminished figure who did not turn to face the press and twice declined to address the court.


Also on trial were Guzmán's wife, Elena Iparraguirre – his one-time second-in-command – and nine other members of the guerrilla group's leadership, or central committee, including Comrade Artemio, who was captured in 2011 after more than two decades hiding in Peru's jungle.


In July 1992, about half a tonne of explosives were detonated in two car bombs in Tarata, a narrow one-block street, in the prosperous Miraflores neighbourhood, killing 25 people and injuring more than 150. It was the Shining Path's single most deadly attack on the capital. Two months later, on 12 September 1992, Guzmán was captured.


Guzmán's lawyer, Alfredo Crespo, said his client denied the charges: "There isn't a single piece of evidence that Abimael Guzmán or the central committee gave the order to execute this act in Tarata."
Crespo, who leads the Shining Path's successor group Movadee, argued his client was a political prisoner who had accepted the
"mistakes, excesses and limitations"
of his movement.


State prosecutor Johnny Soto said only the group's central committee could have given the order to carry out the bombing, given the Shining Path's hierarchical structure.


"As everyone knows, it was under the command of Abimael Guzmán, 'Presidente Gonzalo',"
he said.


For orthodox members of the Shining Path, Guzmán is the fourth sword of communism after Marx, Lenin and Mao. According to Guzman's philosophy, blood was necessary to irrigate the revolution.


The outcome of this trial will be somewhat academic. Guzmán and his wife are already serving life sentences in prison.
http://www.theguardian.com/world/2014/jan/21/shining-path-leader-presidente-gonzalo-abimael-guzman?CMP=twt_fd