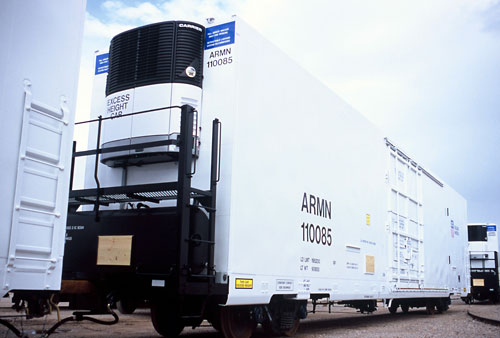 TransCold Express on track with BNSF reefer service
Sep. 3, 2013









McKay TransCold, a third-party logistics (3PL) company providing multi-modal logistics services, announced that its flagship service—TransCold Express—will launch as a dedicated, refrigerated train offering a bi-directional service between California's Central Valley and the Midwest.

Inaugural service will start in first quarter 2014, with McKay TransCold operating a dedicated 50-car unit train between Selma CA and Wilmington IL.
The service will move refrigerated and frozen consumer goods and produce by the carload, truckload, or less-than-truckload (LTL) via BNSF's newly refurbished fleet of refrigerated box cars.
Each refrigerated boxcar holds up to four truckloads.
Trains will depart from each location starting at one train per week and grow to two days of service as demand grows.
The trains will operate on a reliable schedule with the first departures slated for Wednesdays from California and Illinois.

"We have worked closely with the BNSF team to craft a program that will fill a niche in current modes of transportation. It was important to bring a service to the market that added value and focused on overall supply chain solutions,"
said Randy McKay, chief executive officer of McKay TransCold.

The expedited train service could not be timelier given current challenges in the trucking industry with new hours-of-service regulations.
An added benefit of the service is that the train is 70% greener compared with trucks with one railcar equaling up to four truckloads. This benefit measurably decreases companies' carbon footprint.

"TransCold Express represents a new milestone in refrigerated train service on our network,"
said Dave Garin, BNSF group vice-president, Industrial Products.
"Our network provides an ideal solution for perishable shippers to achieve superior supply chain performance because of BNSF's commitment to service performance and reliability."

The Illinois location will provide competitive service to Wisconsin, Michigan, Indiana, Iowa, Ohio, Kentucky, and the East Coast, including Pennsylvania, New York, New Jersey, the Carolinas, and select Canadian markets including Toronto.
The California location will serve all of California and southern Nevada. Services of forward distribution, consolidation, and redistribution will be offered at the hubs to enhance supply chain savings.
http://refrigeratedtransporter.com/carriers/transcold-express-track-bnsf-reefer-service