The future of Texas produce imports


By 2020, fruit and vegetable imports from Mexico to Texas are forecast to grow an outstanding 73% in comparison to 2012, up to the equivalent of 615,000 truckloads, according to analysis by the Texas A&M Center for North American Studies.
By this time, Texas is expected to account for over half of fruit and vegetable imports arriving to the U.S. from Mexico.


At the heart of this growth will be the Rio Grande Valley, forecast to receive almost 60% of total produce imports from Mexico to Texas by 2020.





To take on this boom, Pharr will need to equip its facilities with additional inspectors, including an entomologist from the Animal and Plant Health Inspection Service (APHIS).
"That is going to facilitate the truck crossings to not slow down and to be able to identify if a bug poses potential harm to the U.S.," Garza said.


"Before that bugs had to be taken a photo of and sent somewhere else. If the identifier was not able to see what kind of bug that was, they would have to send the bug itself to that individual physically. That was causing trouble."
In addition to taking on phytosanitary specialists, the Texas produce industry is expected to experience significant job growth, facilitated in large part by traffic brought in on the super highway.



Total jobs in Texas supporting produce imports are forecast to grow from just over 3,000 in 2012 to almost 7,000 in 2020. That compares 10,000 jobs between Texas, New Mexico, Arizona and California combined, according to Texas A&M.



The super highway is expected to reach full operation during the first quarter of the year.
www.freshfruitportal.com

New Mexican superhighway may present local opportunities
Steve Clark | The Brownsville Herald


The Mazatlan-to-Matamoros corridor, a major Mexican infrastructure improvement project, could reap benefits for the Rio Grande Valley economy in the form of greater bridge traffic at crossings such as the Veterans Bridge at Los Tomates in Brownsville.
Posted: Friday, February 22, 2013 6:05 pm
Steve Clark | The Brownsville Herald


An ambitious, nearly complete superhighway connecting Mexico's Pacific coast to the Gulf Coast has the potential to significantly benefit the Rio Grande Valley — but only with aggressive marketing of the area to companies that move products across the border.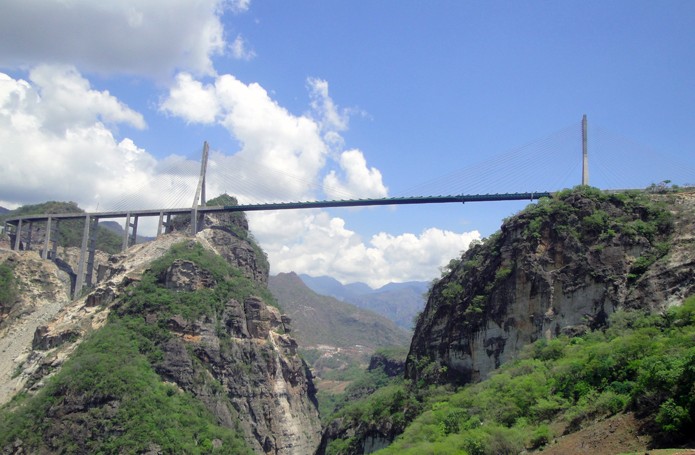 That's according to Steve Perez, president of Cargo USA Logistics.
He said the so-called Mazatlan-to-Matamoros corridor, part of the comprehensive National Infrastructure Plan put forward by former Mexican President Felipe Calderón in 2007 to facilitate trade and tourism and boost the country's economy, should be finished this July or August.
The task locally is to convince importers and exporters that a Brownsville-Matamoros crossing is a feasible, economical alternative to busy ports of entry such as Laredo and Nogales, he said. The fact that an increasing number of U.S. manufacturers are moving operations out of China and into Mexico adds to potential opportunities for Brownsville and the county, Perez noted.
Raw materials are shipping into Mexico, turned into products, then transported back into the United States and elsewhere worldwide.


"We have to do a good job at marketing, obviously,"
he said.
"This is a very big investment from the Mexican point of view — almost $2 billion to establish this corridor. Most of those billions are on the west site, from Mazatlan to Durango."


Perhaps the most impressive aspect of the corridor project is the Baluarte River Bridge in the Sierra Madre Occidental Mountains in western Mexico.
Spanning 1,706 feet and standing 1,321 feet high, it's the tallest bridge in North America and the highest cable-stayed bridge in the world.
The corridor features several other tall bridges in addition to Baluarte, as well as more than 60 tunnels.

The project has spurred construction of an overhead highway in Matamoros that will connect Veterans International Bridge at Los Tomates with the Mazatlan-to-Matamoros superhighway, giving commercial traffic a route that avoids Matamoros traffic jams. The Matamoros highway should be finished in about four months, Perez said.
On the Texas side, the completion of Interstate 69 to the Valley will help provide the necessary infrastructure to lure more commercial traffic, as will the already partially complete Texas Highway 550, which will connect the Port of Brownsville with the future I-69 (now U.S. 77/83), he said.
Another essential piece is the Texas Highway 32 East Loop project, which will connect Veterans Bridge with the Port of Brownsville, Perez said. Construction on that project is expected to begin this year.
"All this stuff is brewing, which is very exciting," he said.
Eddie Campirano, port director and CEO of the Port of Brownsville, said packing shed owners in the Valley are excited about the prospect of luring shippers of Mexican produce away from the Nogales port of entry. He said the port would do everything it could to facilitate that shift with the aid of the Mazatlan-to-Matamoros corridor.
"It only complements the region becoming a major shipper of produce — far greater than we are today," Campirano said.
Brownsville port officials last October signed a sister-cities trade agreement with representatives from the city of Pharr, Mazatlan and the Port of Mazatlan, with the aim of boosting the economies of all four.
Campirano said the port has also been approached by West Coast importers of produce interested in exporting into Mexico. He called the new superhighway a primary trade link over which any number of commodities could be transported from the Pacific to the Gulf Coast.
"What it does is it gives us another trade route to work with, working with others who might be more direct benefactors," Campirano said.
For the past few years Perez has been telling anyone who'll listen about the potential opportunities related to the corridor project. He said that it's up to local entrepreneurs to supply what's missing: logistics and other services that are necessary — in addition to infrastructure — to attract more commercial traffic at Matamoros and Brownsville.


Perez said U.S. importers need to be made aware that Brownsville-Matamoros exists.
Commercial traffic at the county's trade bridges could conceivably grow by 50 percent, he added.


"That would put us in the black,"
Perez said.
"It will make Cameron County very happy. That's why we keep pushing traffic. The more traffic there is, the more trade we get and the more jobs it creates."
__
Steve Clark writes for The Brownsville Herald. He can be reached at
sclark@brownsvilleherald.com
.
http://www.themonitor.com/news/local/article_b6e97bc2-7d4c-11e2-8fa7-001a4bcf6878.html