VietNamNet Bridge – Twenty ancient mango trees of over 220 years old in the central province of Phu Yen have been named the heritage trees of Vietnam.


An ancient mango tree. Photo: Anninhthudo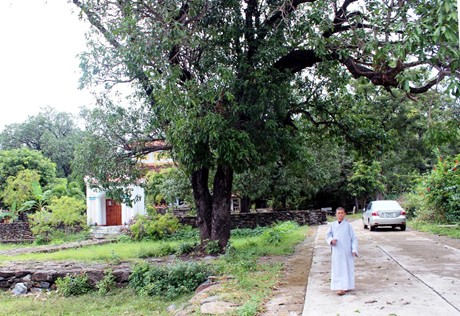 Ancient mango trees at Tu Quang temple. Photo: VGP


These trees are located on the campus of a Buddhist temple named Tu Quang or Da Trang in Can Luong village, An Dan commune, Tuy An district.





A ceremony was held on the morning of February 9 at the temple to celebrate the title.
At the ceremony, Mr. Nguyen Dieu, vice president of the Vietnam Association for Conservation of and Environment (VACNE) presented the certificate of the Vietnam Heritage Tree to the temple managers.
On this occasion, the temple welcomed thousands of pilgrims.



According to official documents, the mango trees were planted by a Buddhist monk named Phap Chuyen in 1793. The mangoes were very delicious so they were offered to the kings.










Today, the mango trees of over 220 years old still yield fruits annually.


Also, a 13-root banyan in Trai 1 village, Ngo Quyen district, the northern city of Hai Phong, has been recognised as a national heritage tree on February 9.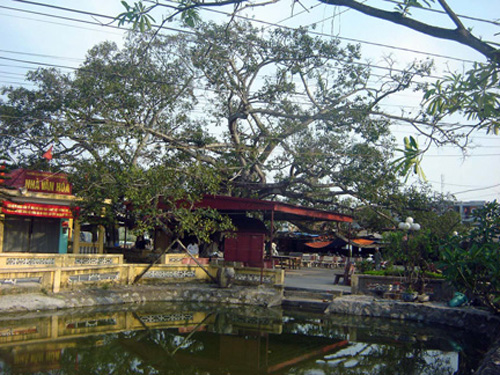 The ancient banyan tree in Hai Phong. Photo: Baohaiphong.
The tree has the largest number of roots ever recorded in a banyan nationwide.
There is a shrine beside the tree, which is to worship Tho Vuong, who helped found and defend the village.
The VACNE launched a program to conserve Vietnam Heritage Trees in 2011. To be recognized as heritage trees, the trees must be at least 200 years old in the case of wild trees, and at least 100 years for those planted. Moreover, the trees should be connected with historical and cultural characteristics of the area where they grow.


Nearly 500 trees have been named a Vietnam Heritage Tree so far.
http://english.vietnamnet.vn/fms/art-entertainment/95296/200-year-mango-trees-recognized-as-heritage-trees-of-vietnam.html