March 11, 2014
By ALAN FARNHAM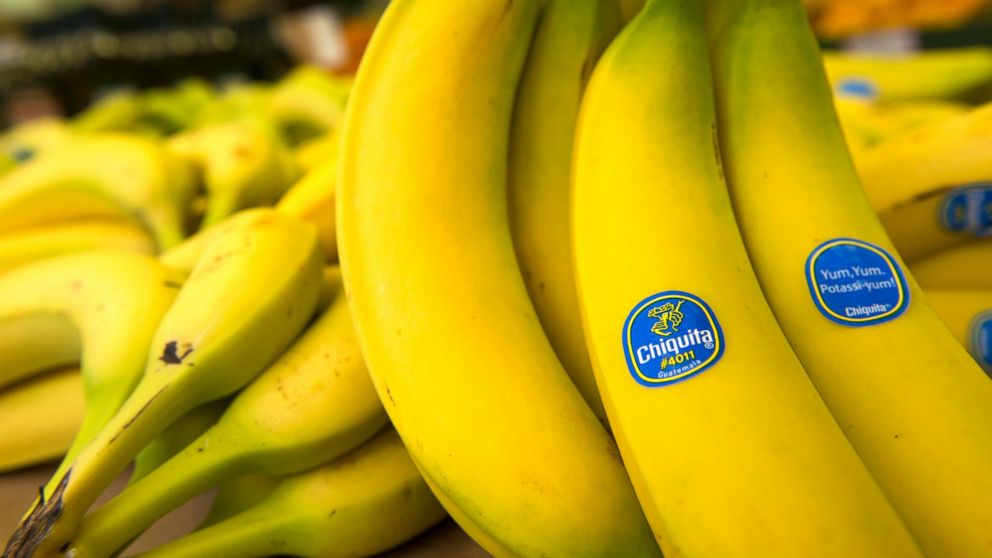 Chiquita Brands International Inc. bananas are arranged for a photograph at Union Street Produce Co. in San Francisco, Calif. on Feb. 19, 2013.David Paul Morris/Bloomberg via Getty Images








What does the merger of two giant banana producers--Chiquita Brands in the U.S. and Ireland's Fyffes Plc--mean for U.S. consumers and the prices that they pay for fruit?
With $4.6 billion in sales, the combined company, ChiquitaFyffes, Plc, will be by far the world's biggest banana producer and a major player in melons, pineapples and packaged salads.
David Holohan, head of research for Merrion Stockbrokers in Dublin, calls the Chiquita-Fyffes combo a good deal for both companies.
"It's a consolidating market, fragmented between four players,"
he says of bananas.
Chiquita shares up 12.2 percent


Before the merger, Chiquita already had the biggest market share of the banana market, he says, with 125 million cases sold globally, followed by Del Monte (117 million) and Dole (110 million). Fyffes had been a distant 4th with 55 million. In the U.S., says Holohan, Chiquita ranks #1 in super market sales of bananas and #2 in the sales overall.
Referring to ChiquitaFyffes, Holohan tells ABC News,
"Now there's a clear #1 market leader. They'll be able to achieve significant synergies going forward."
That's important, he says, because bananas are a low-margin business.
"It's a case of 2 plus 2 equals 5."
What effect will the merger have on the prices consumers pay for fruit? Little, if any, Holohan thinks. In the banana business, he says, even the biggest producers and distributors are not in a position to set the price. Rather, he says, "They must take the price," which is dictated by seasonality and by supply and demand.


"It isn't likely to add or remove any pricing pressure,"
he says of the merger.
It will, however,
"benefit shareholders and the management of these two companies, because they can now increase profit by avoiding duplication."
On news of the deal, Chiquita's shares rose a little over 12 percent to $12.15.


According to The Packer, a produce industry newspaper, the following were the biggest-selling fruits in the U.S. for 2012, the last year for which data are available. Amounts are in millions of dollars:


Avocado sales in the U.S. have increased by 100 percent over the last decade, according to biggest U.S. avocado producer, Limoneira.
The company, based in Santa Paula, Calif., also is one of the biggest producers of lemons, oranges and other citrus.
Harold Edwards, Limoneria's president and CEO, tells ABC News that he, too, thinks Chiquita's merger with Fyffes will have little effect on fruit prices. "It may seem somewhat counter-intuitive," he says, "but this merger is going to be a good thing for consumers." Reason: It will increase the efficiency of the global supply chain for bananas and the other fruits sold by the combined company.


That improvement in efficiency will allow "fruit to flow more freely around the world. It should make bananas more available, and their quality more consistent. The impact should be very positive."


Looking five years out, Edwards says he expects prices to remain steady for the five biggest-selling fruits.
"What's true for bananas is true for citrus and avocado. They're a global commodity, subject to global commodity pricing. The big producers won't be able to set prices. But they will be able to used improved infrastructure to move fruit, store it and ripen it more efficiently."
http://abcnews.go.com/Business/chiquita-merger-means-us-banana-mellon-pineapple-prices/story?id=22847554