Oct 24, 2014, 9:29am EDT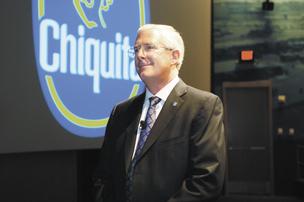 FILE

Ed Lonergan, CEO of Chiquita, says the Charlotte-based company will now "continue to discuss" a $14.50-per-share unsolicited proposal by two Brazilian companies, Cutrale Group and Safra Group, to take the company private.
Chiquita
Brands International Inc. shareholders said
"no"
to the banana's company's plans to buy
Fyffes
plc.


The preliminary results of shareholders' votes were disclosed during an eight-minute special meeting of the Chiquita board of
directors this morning.

See Also


The vote brings a brief end seven months of uncertainty about the fate of Chiquita. In March, Chiquita announced the plan to buy Ireland-based Fyffes and move its headquarters to Dublin.
The board said each time they preferred to combine with European banana giant Fyffes.




Cutrale representatives at the meeting stood and shook hands with each other after the meeting adjourned. Through a spokesman, they declined to comment.


"The shareholders vote speaks for itself,"
said the Cutrale spokesman.

Ken Elkins covers manufacturing, international business and economic development for the Charlotte Business Journal.
http://www.bizjournals.com/charlotte/blog/outside_the_loop/2014/10/chiquita-shareholders-reject-deal-to-buy-fyffes.html