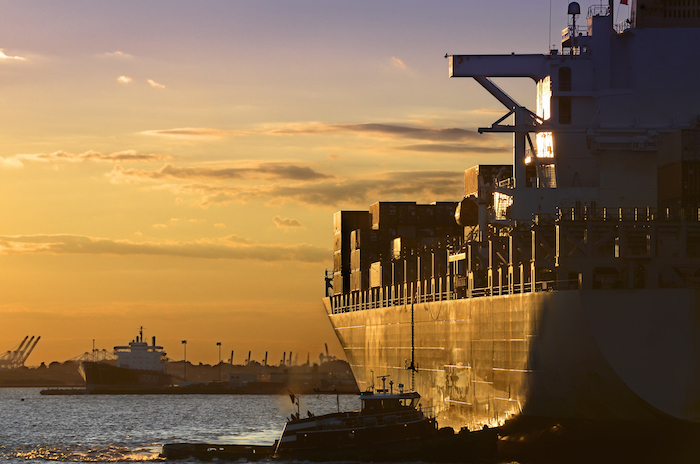 U.S. economic growth and disruptions on the West Coast are combining to make 2015 a promising year for U.S. East and Gulf Coast ports.
The pendulum of containerized cargo flows has swung from west to east and back during the last two decades. Now it may be swinging back the East and Gulf coasts, aided by a southward shift in Asian manufacturing and given an extra push by renewed questions about reliability of West Coast ports.

Southeast Asia's nibbling at China's dominance of Asian manufacturing is boosting Suez Canal services to East Coast ports. That trend may be magnified, at least in the next year, by West Coast port delays that reached crisis levels in late 2014 and are prompting shippers to consider other port gateways.
The Global Port Tracker published by Hackett Associates and the National Retail Federation recently forecast that containerized volume through major gateways for retail imports would rise 4.6 percent on the East Coast and 3.2 percent on the West Coast during the first half of 2015.
Those forecasts may be revised if the East Coast is slammed by a severe winter such as the one that crippled the North Atlantic ports of New York-New Jersey and Virginia a year ago. Both of those ports have implemented changes aimed at increasing their resilience to weather disruptions.
Overall containerized cargo volume at U.S. ports is expected to grow by mid-single digits this year for imports, JOC Group Economist Mario O. Moreno forecasts. Export volume is forecast to be flat, held down by the rising dollar and by weakening overseas economies.
Moreno expects U.S. containerized imports in 2014 will total slightly under 19 million 20-foot-equivalent units, a 6 percent increase from 2013. He forecasts a 6.8 percent increase in 2015, to nearly 20.3 million TEUs, and a 6.8 percent increase in 2016, to nearly 21.8 million TEUs.
Those are healthy increases, even if they're below the heady pre-recession years when annual volume increased by close to double digits. The long recovery from the 2008-09 Great Recession is continuing, and most signs are positive for increased imports. Statistics on employment, retail sales, building permits and manufacturing production are pointing upward.
"There's still a lot of pent-up demand for goods such as autos and furniture,"
Moreno said.
Furniture and home furnishings, which account for about 10 percent of U.S. containerized imports, are highly correlated with the housing market. When people buy a new home, they often purchase furniture for it. Furniture imports rose about 5 percent in 2014. Moreno expects increases in the mid-single digits in 2015.
New-home sales have been running at an annual pace of about 1 million units, generating increased imports of materials such as veneers and plywood, plumbing supplies and ceramic tiles, all of which were up by double digits in 2014.


Automotive parts and components also are showing growth. U.S. light-vehicle sales are approaching the 17 million units of a decade ago and are expected to remain robust at least into 2016. Automotive parts are divided between aftermarket products and original-equipment products for parts manufacturers and assembly plants.


Growth in U.S. manufacturing production is forecast to outpace GDP, with anticipated expansion of 3.5 percent in 2015 and 3.6 percent in 2016, according to the MAPI Foundation, the research affiliate of the Manufacturers Alliance for Productivity and Innovation.


"With the unemployment rate continuing to fall, the pain and suffering from the recession is dissipating,"
MAPI Chief Economist Daniel J. Meckstroth said.
"Why are businesses spending? Because consumers are spending. Also, the drop in energy prices is essentially a tax cut for us."
Lower energy prices have boosted purchasing power and contributed to recent gains in consumer confidence as measured by the Conference Board and Thomson Reuters-University of Michigan surveys, although economists say the positive impact of lower prices on consumer confidence is less than the negative impact when prices rise.
The U.S. economy grew at a solid 3.9 percent annual rate in 2014's third quarter, capping a six-month period that produced the country's strongest growth in more than a decade. U.S. GDP contracted 2.1 percent in the first three months of 2014, largely because of a severe winter, but rebounded 4.6 percent in the second quarter.


Moreno agrees with the consensus view that the U.S. economy will expand at about a 3 percent clip in 2015. But the picture beyond U.S. borders isn't so rosy. The eurozone economy remains sluggish, Japan has had four recessions in six years, and continues to struggle, and China's torrid growth has been decelerating to a still-strong level of about 7 percent.
The Institute of Supply Management's U.S. purchasing managers' index eased to 58.7 in November from 59 in October, although new orders and production remained robust. The U.S. PMI easily outpaced similar indices published for the European Union, China, Japan and South Korea.
Economists question how long this gap can continue.
"Demand is not growing fast enough in the U.S. to let it buck the trend for much longer and fight off the eventual cooling influences of soggier exports and firmer imports caused by a strong dollar,"
Michael Montgomery, U.S. economist at IHS Global Insight, wrote in a recent analysis.
Slowing growth in demand from China and other industrialized nations is cutting into commodity exports to South America and other regions that buy U.S. products. Meanwhile, the Federal Reserve is widely expected to raise interest rates this year, which would strengthen the dollar and further slow U.S. exports.


Asia continues to dominate U.S. containerized imports. More than 70 percent of U.S. containerized imports are from Asia, the Indian subcontinent and Oceania. Four-fifths of Asian imports are from the North Asia region of China, Hong Kong, Japan, Korea, Taiwan and Hong Kong.


Imports from Northeast Asia rose 5.1 percent to 11.2 million TEUs in 2014 and are forecast to rise 6.1 percent in 2015 and 7 percent in 2016, Moreno said. Imports from Southeast Asia grew an estimated 7 percent, to nearly 1.9 million TEUs, in 2014, and are forecast to rise 9.2 percent in 2015 and 10.3 percent in 2016. Imports from the Indian subcontinent grew an estimated 7.4 percent to 735,955 TEUs in 2014 and are forecast to rise 11.4 percent in 2015 and 12 percent in 2016.


The fastest-growing Asian regions for U.S. imports are in Southeast Asia. Vietnam has become a solid-though-distant No. 2 to China in commodities such as footwear, and is starting to move into higher-value production. Continued growth also is likely from India, which, like Vietnam, continues to struggle with substandard transport infrastructure.
U.S. imports from Western Hemisphere nations slowed to an estimated 2.4 percent growth rate in 2014, when they totaled more than 1.8 million TEUs. Moreno expects growth in imports from the region to rebound to 6.5 percent in 2015 and 7.6 percent in 2016.
Hemispheric exports from the U.S. declined an estimated 1.4 percent in 2014 and are expected to rise only 0.4 percent in 2015 and 3.6 percent in 2016. Similar numbers are forecast for Europe and Asia, as the stronger dollar makes it more difficult for U.S. companies to sell into markets where manufacturing growth already is slowing.
http://www.joc.com/international-trade-news/us-west-coast-port-struggles-may-shift-rising-imports-east_20150104.html