Greg Knowler, Senior Asia Editor
| Feb 25, 2015 5:57AM EST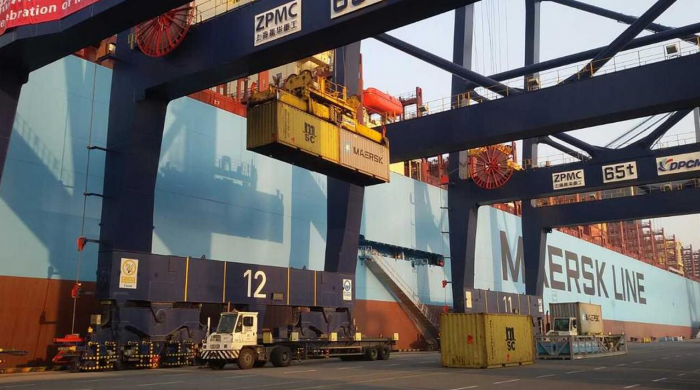 Munkebo Maersk, the line's 14th Triple-E vessel, is part of the 2M Alliance with MSC that will be fully operational by the end of March.
HONG KONG — Maersk Group made a record net profit of $5.2 billion in 2014, up 38 percent on the 2013 result and driven by a strong performance by Maersk Line, which reported a profit of $2.3 billion.
The liner shipping division earnings were 50 percent up on those of 2013, with the fourth quarter alone delivering a profit of $655 million, more than double the result of the same quarter in 2013, Maersk Group CEO Nils Andersen said in an earnings call.
He said the group was very satisfied with the result and predicted that Maersk Line would beat the underlying profit this year. The carrier plans to improve its competitiveness through unit cost reductions and the full roll out of the 2M Alliance that Andersen said allow Maersk Line to match the 3-5 percent increase in global demand for seaborne container transportation.

Solid figures could be found through the 2014 results. Container volumes increasing by 9.8 percent year-over-year to 2.4 million 40-foot containers, driven by solid growth on North-South and Intra trades, while the long-haul East West trades remained stable.


Significant cost savings were achieved through the falling bunker fuel prices that dropped 11 percent since the third quarter to $512 a ton, and a 7.9 percent lower bunker consumption per FEU. Maersk Line has reduced its consumption per 40-foot container by 49 percent since 2007.

Fleet capacity increased by 12 percent to 2.9 million TEUs as three Triple-E vessels were delivered in the fourth quarter, taking to 15 the number of 18,000 TEU Triple-Es delivered out of the 20-ship order.
The new and efficient tonnage allowed Maersk Line to further reduce its unit costs by $197 per FEU, down 7.2 percent, although average freight rates fell 1.6 percent during 2014 to $2,630 per FEU.
Asked whether the bunker savings would be passed on to customers, Andersen said there was not a lot of idle capacity around at the moment so the container industry
"would make a big effort to keep part of the bunker savings, and will largely be successful."
Maersk Line has no plans to increasing vessel speed as network and fleet adjustments required a sustained low bunker price level, which was not reflected in the market's forward curve.


"In our previous forecasts
we did not see the size of the oil price drop, but $70-$90 a barrel is the normalized price we use in our calculations,"
he said.
In its earnings report, the group said,
"To minimise the impact of the low and volatile freight rate environment, Maersk Line continued to absorb capacity by active capacity management in the form of idling, slow steaming and blanked sailings."
Andersen said the 2M network on the East-West trades between Maersk Line and Mediterranean Shipping Company was implemented in January and would be fully operational by the end of March.
"It is too early to declare victory, but our customers have received the new network well and we don't expect anything negative this year,"
he said.
Schedule reliability studies consistently rate Maersk Line at the top of the table, but the same cannot be said for its 2M partner, MSC.
Asked whether this could be a problem, Andersen said only that Maersk
"would continue to work very hard to be the most reliable carrier. Having a partner that maybe gives us some additional work, well, we will continue our efforts in that direction."
APM Terminals profit decreased 47 percent to $117 million through an impairment of $102 million after tax related to Global Ports, the Baltic and Far East port operator with which it holds a 30 percent share, although the underlying profit increased to $221 million.
Total throughput for 2014 reached 38.3 million TEUs, up 5.2 percent, with 9.4 million TEUs handled in the fourth quarter showing flat growth year-over-year.
The freight forwarding arm of the Maersk, Damco, is now housed in the APM Shipping Services unit of the group that includes tankers, supply services, and salvage operator Svitzer.
Damco's poor performance continued in 2014 with the company reporting a $145 million loss, down 27.5 percent compared to 2013. The forwarder reported double digit declines in both air and ocean volumes.
http://www.joc.com/port-news/maersk-lines-23-billion-profit-lifts-group-earnings-record_20150225.html?mgs1=181ajkkEsl