http://www.acci.com.ph/

(The Philippine Star)
Updated February 2, 2015 - 12:00am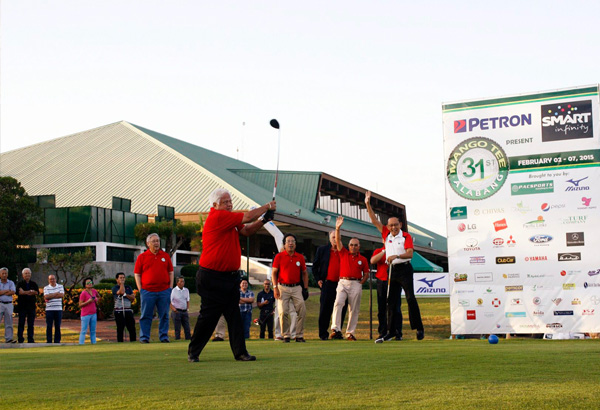 Alabang Country Club president Gil Balaguer hits a ceremonial drive that draws an applause from former President Fidel Ramos and other club officials and guests.
MANILA, Philippines - The 31st edition of the Mango Tee, the invitational member-guest tournament of the exclusive Alabang Country Club inside the Ayala-Alabang village, fires off today with a full field of 800 players taking a crack at a whopping prize package worth more than P7 million.
Gilbert Joven and Julius Cada are back to defend the overall net crown while JB Garcia, the other half of last year's winning gross champion, is bringing in a new partner in national player Kristoffer Arevalo in the five-day event co-presented by Petron and Smart considered as the most popular among the member-guest invitationals in the local golfing scene.
They will lead the chase for the top awards in four handicap groups (Class A, Class B, Class C and Class D) that will be won by the teams posting the most points for two days.




There will be a lot more to vie for over the next five days as the Mango Tee also

stakes

a whopping multi-million hole-in-one package that includes a Mitsubishi ASX, a Texas Eagle cart and P100,000 worth of gas from Petron on No. 8., a Ford Fiesta, Yamaha cart and Piaggio APE Passenger on No. 6, a Mercedes-Benz C-Class and Club Car on No. 15 and Toyota FJ Cruiser, Yamaha cart and

Mytron cart on

No. 12.
Major sponsors for the event are Pacific Links, Pepsi, Turf Co., Hungry Hippo, Hanes, Food Details, Mizuno, PacSports, Chivas Regal, The Glenlivet and LG Electronics.




Hole sponsors are Ayala Land Premiere,

Alveo

, Air 21, Bayer, City Service, CTBC Bank, EC Pay, EFV, Eight Arms,

Entom

, G&W

Clubshares

, GG&A

Clubshares

, GNC, Golfers

Clubshares

, Maritime Industries, Coco Sorbetero, Martin Lorenzo, Gold Nuggets, Safe Seas, Security Bank,

Pemcor

, Standard Insurance,

Reiseling

Boracay, Suarez & Sons, 357 Boracay, Outback and SignMedia.




Sportshub ( Article MRec ), pagematch: 1, sectionmatch: 1




This year's Mango Tee officially kicked off Saturday with former President Fidel V. Ramos joined by ACC

president

Gil Balaguer, sports committee chair Jude Aguilar, Mango Tee committee chair Dennis Hernandez, club directors and representatives of sponsoring companies in the opening ceremonials.
FVR will be playing with Katy Katigbak and they will form one of the notable teams that also include Bones Floro-Sen. JV Ejercito, Archie Lacson-Pablo Soon, Paul Salvador-Raymund Sangil, Tommy Manotoc-Carlos Villaroman, Marvin Caparros-King Stehmeier, Paul Ching-Hikosaburo Shibata, Danny Isla-Edwin Gardiola, Martin Lorenzo-Carlo Villaroman, Rene Roy-Philip Romualdez and Jorge Gallent-Junjun Plana.
http://www.philstar.com/sports/2015/02/02/1419300/31st-mango-tee-gets-going-today