Simeon Tegel

Devaluation? What devaluation?


Bolivar to dollar, it's not as simple as it sounds. (Juan Barreto/AFP/Getty Images)
LIMA, Peru — You might think that devaluing a currency by more than two-thirds is a big deal.
Big enough, perhaps, that your president would mention it during a televised speech he gives on the same day.
Well, Venezuela's controversial leader, Nicolas Maduro, thinks differently.
It was Thursday, just hours after his government revamped part of the country's complex, three-tiered foreign exchange system — a move Reuters characterized as a
69 percent devaluation
. But Maduro took to the airwaves to denounce yet another supposed coup attempt.
Speaking on the first
anniversary
of the start of anti-government protests, known as
"12F"
in Venezuela,
Maduro claimed
that
"Washington"
had been plotting to send jets to bomb his presidential palace.
Police even
arrested 11 people
, including Venezuelan soldiers and a retired air force general, over the allegations.
It's hardly the first time the successor of the late Hugo Chavez has railed against supposed attempted ousters.
In fact, as Venezuela's economy has collapsed over the last 18 months, Maduro has repeatedly claimed to have foiled coup attempts from the United States or the Venezuelan opposition — without ever providing evidence.
The US government dismisses the claims as
"ludicrous"
and says Caracas is using them to
"
distract
"
Venezuelans from the country's real problems.
Venezuelans are enduring 64 percent inflation, widespread shortages of food, medicines and other goods and, according to the United Nations, the world's second highest murder rate.

But here's what happened with the exchange rate:
The country's multilayered foreign exchange system is hard to decipher.


This week officials overhauled the main fixed rate for ordinary Venezuelans, allowing it to float, with the market setting its value. As a result, 1 bolivar now buys just 0.58 of a penny (in other words, the rate is 170 bolivars to the dollar).
That's the devaluation Reuters, and others, have been headlining.
But there are two other stronger rates, which will both remain pegged to the dollar at a fixed value. The strongest, available only to state businesses or to purchase vital imports, gets you nearly 16 US cents per bolivar.


Economists say the fixed rates overvalue Venezuela's currency. Government critics say corrupt officials use the strongest one for personal transactions, while others accuse the wealthy of getting richer by gaming the system.
How some people are reacting:
El Nacional
newspaper highlighted how the new exchange rate for ordinary folks was a staggering 1/27 of the government rate.
Opposition leader Henrique Capriles, who narrowly lost the presidential race to Maduro in 2013, was not slow in linking the currency reform with the president's claims about plots to overthrow him: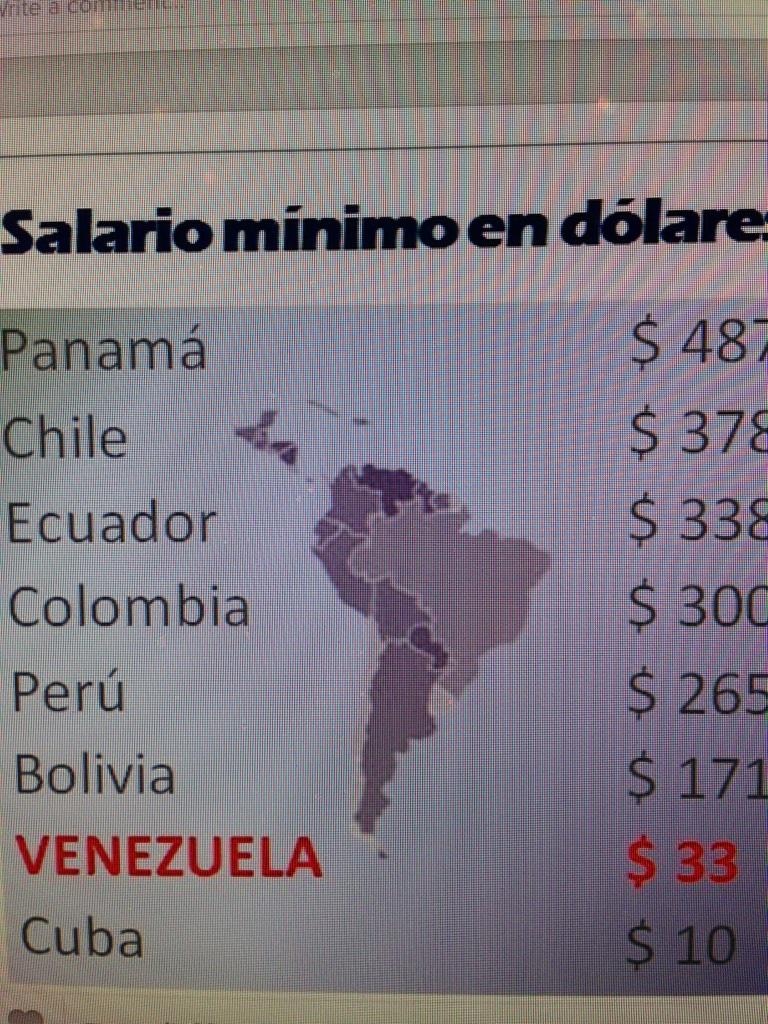 "Here is today's COUP against Venezuelan workers and their families,"
the tweet reads. The photo compares the minimum wage, in dollars, in various Latin American nations.
Another Twitter user, @alejaguevara, who describes herself as a videographer
"made in Venezuela,"
waded into a debate over whether the devaluation broke records:
"The only [coup] attempt today is the dollar at #170Bs. The biggest #devaluation in the history of Venezuela."
The photo says:
"Airplane responsible for the [coup] attempt against the Venezuelan people."
Venezuelan newspaper, TalCual, ridiculed Maduro's claims with this Twitter poll:
The tweet reads:
"TODAY'S POLL: Which of the 16 versions of coups denounced by Maduro strikes you as the most believable?"
Meanwhile, another Venezuelan, @COmentarista7, tweeted this picture of a line outside a supermarket: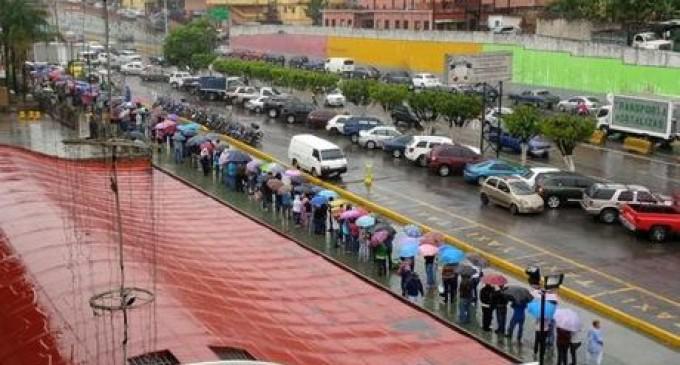 It reads:
"Shopping for food in #Venezuela is Mission Impossible, lines for kilometers, Sun, fainting, arguments, drama, hours lost."


http://www.globalpost.com/dispatch/news/regions/americas/venezuela/150213/venezuelan-bolivar-exchange-devaluation-maduro