BY CARL COLLEN




Wednesday 27th May 2015, 04:23 Central Time

Mango Board pushes NWSL tie-up
http://www.fruitnet.com/americafruit/article/165361/mango-board-pushes-nwsl-tie-up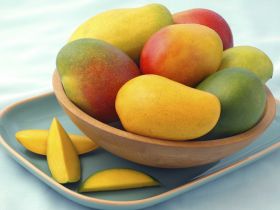 RELATED ARTICLES
The National Mango Board (NMB) has announced that mangoes are the official superfruit of the National Women's Soccer League (NWSL) in the US.
All season long the NMB is partnering with premier teams and athletes to showcase the fruit; scoring big with soccer fans at sampling events with player appearances, giveaways, social media engagement and more.
The NMB's Consumer PR & Marketing Program is designed to increase mango awareness amongst consumers in the US by using education initiatives such as how to choose, cut, and use mangos. Sampling events at key matches allow the NMB to reach a targeted audience of families and kids with fresh fruit samples to show how tasty, versatile and easy-to-use mangoes are.
The NWSL sponsorship also includes mango signage in all team stadiums to be seen by more than 5m fans on national broadcast stations, YouTube and live in-stadium. In addition, the NMB will share mango messaging and information about exciting giveaways of match tickets, soccer balls and jerseys on NWSL and individual teams' social media channels.
"As the soccer culture grows in the US, we see a huge opportunity to engage and educate our consumers and retailers about mangoes, utilising a medium that is already getting a big buzz across the country," stated Rachel Muñoz, director of marketing of the NMB. "This sponsorship will allow us to reach key audiences and celebrate summer by bringing the world's love of mangoes and soccer to the US."