Joseph Bonney, Senior Editor | May 08, 2015 12:26PM EDT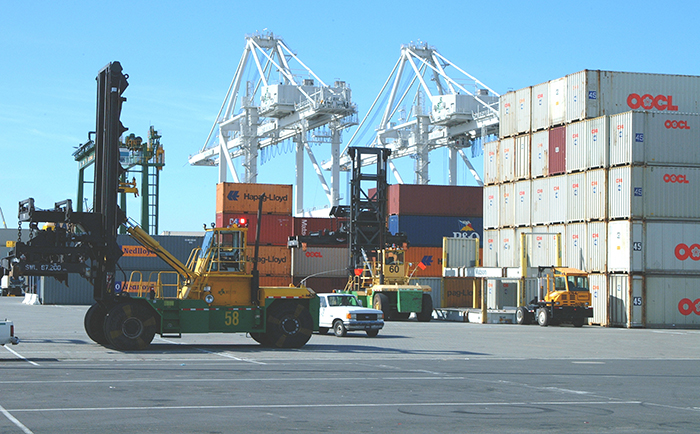 Containerized imports through major U.S. port gateways hit record levels in March as West Coast ports disgorged shipments that backed up during weeks of gridlock, according to the latest Global Port Tracker report.
Port Tracker, published by the National Retail Federation and Hackett Associates, said ports covered by the report handled 1.73 million 20-foot-equivalent units in March, the latest number for which after-the-fact totals are available.


The number was up 44.9 percent from February, when West Coast ports were crippled by reduced productivity during labor-management squabbling over a new longshore workers' contract, and up 33.1 percent from March 2014.
The International Longshore and Warehouse Union and the Pacific Maritime Association tentatively agreed on a five-year contract in February after eight months of negotiations. ILWU leadership has recommended that members vote for ratification, but votes won't be counted until May 22.
Since the ILWU and PMA reached agreement, West Coast ports have been running full-tilt to clear tens of thousands of boxes stranded on terminals and on anchored ships.


"Dockworkers and management made a massive push to clear the backlog of cargo over the past several weeks, and West Coast ports are getting back to normal despite concerns such as the Teamsters picketing seen in Los Angeles and Long Beach earlier this month,"
said Jonathan Gold, NRF vice president for supply chain and customs policy.
"We hope to see this month's ratification vote go smoothly and then settle into a long period of efficient, dependable operations before we have to think about contract talks again. But there are still plenty of other issues impacting congestion that the ports need to work through,"
Gold said.
Port Tracker forecasts solid year-over-year growth through the summer. The report covers Los Angeles, Long Beach, Oakland, Seattle and Tacoma on the West Coast; New York-New Jersey, Virginia, Charleston, Savannah, Port Everglades and Miami on the East Coast; and Houston on the Gulf Coast.
April imports through those ports were estimated at 1.55 million TEUs, up 8.1 percent from 2014. May is forecast at 1.56 million TEUs, up 5.4 percent; June at 1.53 million TEUs, up 3.7 percent; July, 1.57 million TEUs, up 5.1 percent; August, 1.58 million TEUs, up 3.9 percent, and September, 1.6 million TEUs, up 1.1 percent.
Volumes through the ports during the first half of 2015 are forecast to total 8.8 million TEUs, a year-over-year increase of 6 percent.
The increased volume may have a downside for carriers struggling to maintain rate levels, said Ben Hackett, founder of Hackett Associates.



He noted that increased cargo volume coincides with introduction of large, new ships

. "This upsets the supply/demand balance,"

Hackett said.
"There is not enough demand to justify this level of capacity increase. Expect rates on both coastal services to fall to all-time lows."
http://www.joc.com/port-news/us-ports/us-container-imports-surge-west-coast-backlog-clears_20150508.html