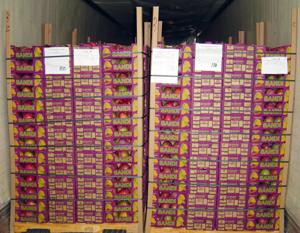 CBP photo
Marijuana in mango load

This shipment of mangoes was contained in a trailer that also held a hidden stash of marijuana.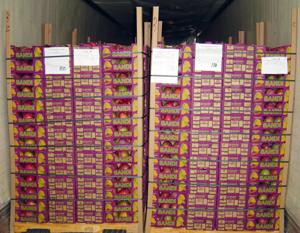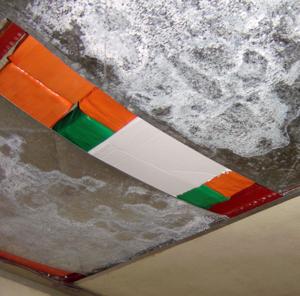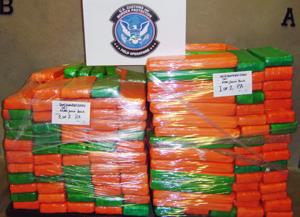 Posted: Wednesday, June 17, 2015 12:29 pm |Updated: 12:36 pm, Wed Jun 17, 2015.
Nogales International
Port officers in Nogales have seized another large marijuana load that smugglers stashed in the ceiling of a commercial produce trailer.

On Monday, after a drug-sniffing dog alerted to a tractor-trailer hauling a shipment of mangoes, U.S. Customs and Border Protection officers at the Mariposa Commercial Facility discovered 274 packages of marijuana hidden in the ceiling of the trailer.
The driver, 57-year-old Ramon Emilio Felix-Lopez of Guasave, Sinaloa, Mexico, was referred to federal investigators, CBP said.
The nearly 1,700-pound dope load, valued at $847,000, was seized, along with the tractor-trailer and mangoes.
CBP said seizure represents the fourth such find in just over the past month.
"In each of the previous shipments, the drugs were either co-mingled within melons or hidden within the roofs of the trailers,"
the agency said in a news release.
In one instance
, officers at the Mariposa port on June 2 found 200 packages of marijuana weighing a total of 1,945 pounds hidden in the ceiling of a produce trailer.
In another melon-related bust
, port officers found nearly 1,500 pounds of pot mixed into a shipment of watermelons. The marijuana had been bundled to look like the fruit.


http://www.nogalesinternational.com/news/big-dope-stash-found-in-mango-shipment/article_230f65ae-1527-11e5-a88b-63a1356b1781.html