Bruce Barnard,
Special Correspondent | Jun 10, 2015 7:57AM EDT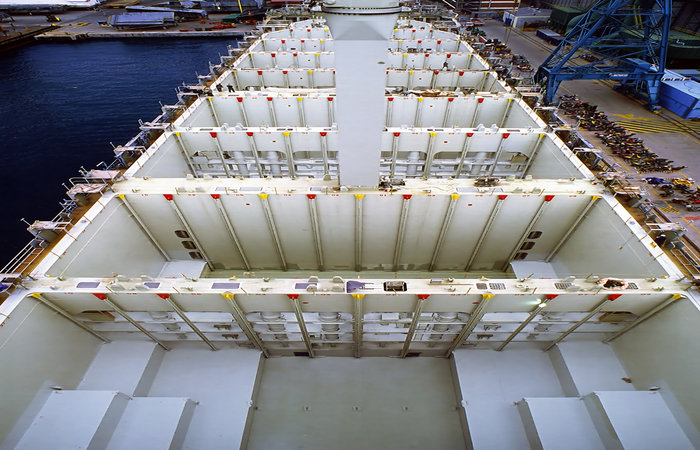 LONDON – The capacity of container ships ordered so far this year is up 60 percent on the same period in 2014, at just over 1 million 20-foot-equivalent units, driven by a wave of contracts for mega vessels, according to Alphaliner.
The surge in orders is largely focused on vessels above 18,000 TEUs, with 39 units of 18,000-21,200 TEUs already contracted this year, the industry analyst said.
Maersk Line's recent contract
for eleven 19,630 TEUs, with an option for a further six, at South Korea's Daewoo shipyard, took the total number of 18,000-21,000 TEU vessels ordered to 88.

Eight carriers have ordered these next generation mega-ships
"which brings into question the future of those carriers that, until now, have stayed away from committing to vessels of a size class which is quickly becoming de rigueur on the Far East-Europe trade,"
Alphaliner said.


Maersk's latest order, coupled with the recent five year charters of seven 9,600 TEUs neo-panamax vessels from Greek owners, will allow the Danish carrier to match close rival Mediterranean Shipping Co.'s planned expansion over the next three years.

The world's top two carriers will each have an operating capacity of some 3.3 million TEUs by mid-2018, putting them well ahead of the competition. Third-ranked CMA CGM's fleet is expected to reach around 2.2 million TEUs by 2018, while the other leading carriers will operate fleets of less than 1.4 million TEUs, barring any potential mergers or acquisitions.
MSC boasts the biggest order book with 701,000 TEUs, including twenty vessels of 19,200 TEUs being built at three Korean shipyards. The first two of these were delivered in the first quarter of this year, with the remainder set to join the Swiss-based carrier's fleet through early 2017.
Maersk's current order book totals 367,000 TEUs and is set to increase in the coming months as the carrier is expected to unveil fresh contracts, including orders for 14,000 TEU ships.
http://www.joc.com/maritime-news/ships-shipbuilding/mega-ship-orders-container-capacity-set-surge_20150610.html