The Rainforest Alliance's Carrera put his life on the line to protect forests in his native Guatemala. Now, he even provides scholarships for children of forest-dependent people
The Rainforest Alliance's José Román Carrera, at right, says: "If we want people and the planet to prosper together, we can't get depressed. We don't have time." Photograph: The Rainforest Alliance

For José Román Carrera, protecting forests is a matter of life and death.
"I received 82 death threats,"
Román recalls of the years he spent helping to establish Guatemala's
Maya Biosphere Reserve
in the 1990s.
"And those were just the written ones. I also got many, many calls saying, 'Leave the country or we'll kill you, we'll get your mother.' I was shot at in my car – 17 bullets. Another time they put a bomb at my house.
"But I'm still here,"
he says with a laugh.
"They tried to kill me and they didn't. Eventually they realized I would never leave. I had to protect the Maya Biosphere Reserve."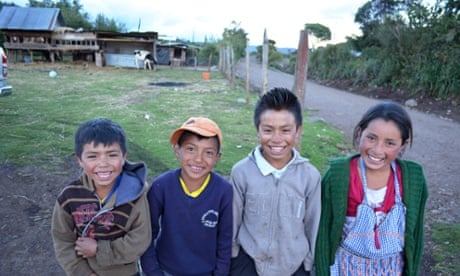 A matter of survival: fortifying Guatemala's climate resilience through community forestry
Read more
Those who know Román say his extraordinary commitment hasn't waned once over the course of his 25-year career. Born and raised in El Quetzalito, a rural community in the state of
Petén
, Guatemala, the 48-year-old Román started working in 1990 with the National Council of Protected Areas of Guatemala (CONAP) – the organization tasked with making the 2.1m-hectare (6m-acre) Maya Biosphere Reserve a reality – and has worked in conservation ever since, including as director of CONAP. Fourteen years ago, he joined the Rainforest Alliance and currently supports forestry communities all over Latin America with his unflagging, fearless dedication – and, thankfully, with fewer death threats.
His great passion is for the forestry concession system, which grants local and indigenous communities the right to harvest forest products as long as they do so sustainably. "The idea is to improve their incomes without destroying the forest," Román says. "I am totally convinced that it works. Just look at the Maya Biosphere Reserve. In the buffer zone, the rate of deforestation is 7%. In the core zone [where no deforestation is allowed] it's 2%. In the concession areas where the Rainforest Alliance has been continuously working with
forest communities
for 10 years, the deforestation rate is zero."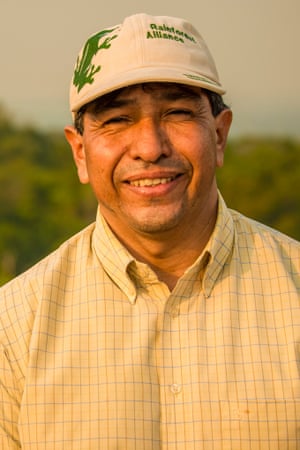 Carrera supports community forestry operations all over Latin America. Photograph: The Rainforest Alliance
Román traces his love for conservation to his childhood, when he would walk five kilometers (more than three miles) through the forest every day to get to school.
"I saw macaws, deer, sometimes I would see a jaguar,"
he remembers.
This was during Guatemala's civil war, when the army and guerillas were fighting, making the area unattractive to businesses.
After the peace accord, companies – as well as illegal loggers, marijuana growers and looters of the famed archeological site
Tikal
– started coming in and destroying the forests.
"Now, where my family lives, most of the tropical forests have disappeared,"
Román says.
Andreas Lehnhoff, who hired Román in 1990 to help establish the Maya Biosphere Reserve, recalls:
"We were operating on a shoestring, and it took a lot of force of personality to make change. I pride myself on being a talent-spotter and I nailed it when I hired Román,"
he says.
"He's a real talent, a visionary, and he's a great negotiator."
Lehnhoff adds:
"He's truly tireless. He's almost obsessed with his passion for community-based forest management."
Román admits he's
"in love"
with his work and calls his wife an angel because she also believes in conservation and improving livelihoods of forest-dependent people. Together the couple provides four to six scholarships each year to boys and girls from Román's hometown.
"If I hadn't had scholarships, I couldn't have studied,"
explains Román, who was one of 10 children.
"I had to leave the community to study. We didn't have roads! I left when I was 11 years old and saw my family only three times a year."
Román secured scholarships for every phase of his education, including a Fulbright to attend Louisiana State University for his bachelor's degree in forestry.
"I'm just paying back what I received. My dream is to provide even more scholarships."
For Román, maintaining his zeal for community-based forest management is easy.
"When you go to one of these communities and you see women integrated into timber and nontimber production and also in the governments of these enterprises, when you see teenagers becoming professionals –
teachers
, nurses, technicians – you have faith."
He adds:
"If we want people and the planet to prosper together, we can't get depressed. We don't have time."
http://www.theguardian.com/rainforest-alliance-partner-zone/2015/jun/29/conservation-superhero-jose-roman-carrera-rainforest-alliance-guatemala