BY CAROL BUCHANAN — JULY 12, 2015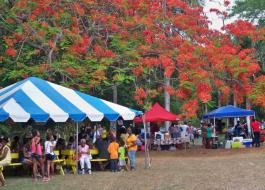 The Mango Melee crowd gathers under the flamboyant trees Sunday at St. George Village Botanical Gardens.
St. Croix residents kicked gloomy economic times and cloudy weather aside Sunday afternoon, as everyone at the St. George Village Botanical Garden was dressed for fun at the 19th annual Mango Melee.
Some people were buying and eating coconut candy; others were learning from Nancy Dash how to make coconut butter or use coconut for fiber in various dishes.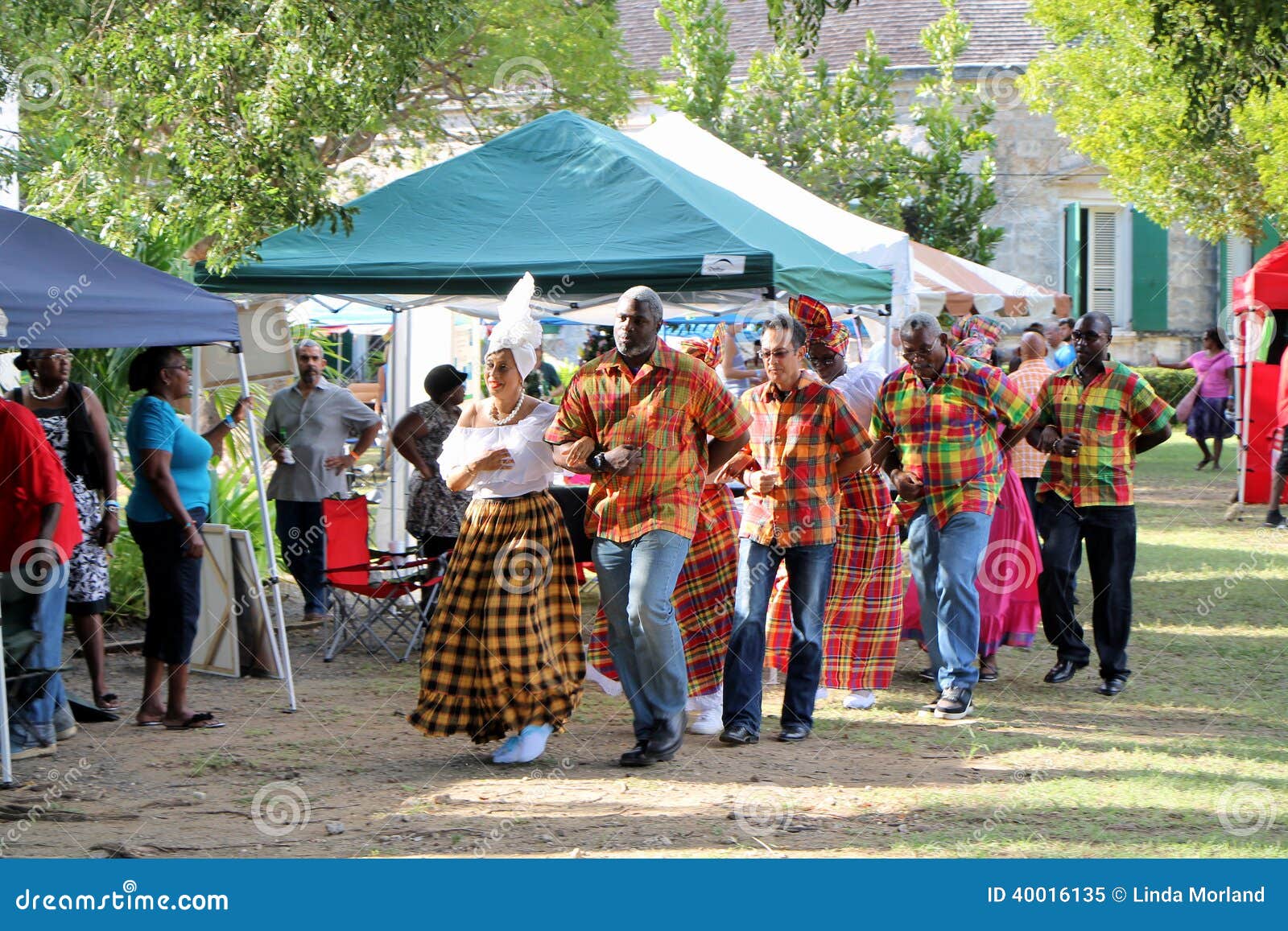 But that was just the beginning – vendors offered all sorts of mango treats and other local food. There were also craft vendors drinks for everyone's taste.
Business was brisk at the booths along both sides of the U-shaped, wide path which leads west from the Great House and back again.
"Business has been very good today,"
said Patty Nickell, whose husband, Roger, sells turned wood items.
But there was more going on than market commerce at the event. The annual mango eating contests for youngsters and adults draw huge crowds at the end of the day.
This year's entertainment included performances by King Derby and Calypso Inc., the We Deh Yah Cultural Dancers, and an appearance by the Taratibu, a visiting African dance and music troupe.
This year it appeared that an exceptional number of the visitors just wanted to enjoy the natural splendor of the grounds.


The hiking trails, paths, bridges, ruins and gardens were not overly crowded, but they were crowded enough. If visitors wanted to enjoy the quiet of the gardens, they needed to pick another day. This was a day to enjoy the laughter of children and to watch out for them if they came running your way. Adults did not do much running; they spent their time meeting and greeting old friends.
Walking on one of the woodland trails, Jessica Lockhart said she always walked around the grounds during Mango Melee.
"But it's really all about the mangos,"
Lockhart said.
"And the food and seeing friends."
The Mango Dis, Mango Dat food competition gave local chefs a chance to show off their culinary skills and be recognized. Wanda Wright of the Wright Apiary won first place in the Sips contest and Lisa Sperry took first place in the Sweets category. First place in Stuff was William John and Susan Barke got first place for Salsa.


Kris VandenBerg, volunteer mango patrol person, said the number of mangos on display was down considerably from years passed, possibly because of the recent dry spell. But there were still some great specimens to see.
This year's theme was
"Mango Melee 2015: The Drought Edition."
The day was dedicated to the farmers of St. Croix. Workshops at the Bodine Visitor's Center included
"Conservation Practices for Addressing Climate Change,"
with Rudy O'Reilly, of Natural Resource Conservation Service, and other discussions.
Christine A. Thomas, director of administration and development, said the attendance was great and every bit as good as they hoped it would be.
She didn't have any firm figures but was happy with the numbers when the Source caught up with her around 3 p.m. She is a fairly new director at the garden.
"Things are going extremely well,"
Thomas said.
"We're happy we sold all of the vendors spots."
She also said she appreciates the work the volunteers had done and is thankful for the sponsors.
The event organizers had help from the V.I. Department of Tourism, UVI Agricultural Experiment Station, UVI Cooperative Extension Service and V.I. Department of Agriculture.
Sponsors included A Better Copy, Cruzan Rum, A Garden Friend, Innovative Companies, TV2, Aqua Sounds Studio, Crucian Gold, Cruzan Environmental Services, JKC Communication, Owen & Carol Johnson, King Derby & Calypso Inc., Marshall & Sterling, RE/MAX Team San Martin and Diamond Industrial Corp.
http://stcroixsource.com/content/news/local-news/2015/07/12/mango-melee-packs-botanical-garden