Bank of America: These Five Maps Show the Major Global Trends Investors Need to Know Robots, aging, food prices, political union, and stock-market value

Luke Kawa
August 12, 2015 — 1:30 PM PDT




40% of World Has Internet Connection: Report


In its Transforming World Atlas, Bank of America Merrill Lynch uses a collection of maps to demonstrate how the world is changing in unexpected ways—and how these trends will shape investment returns for decades to come.




Candace Browning, head of global research, referred to data from one of the Atlas maps—showing that China's share of world Internet usage is more than double that of the U.S.—on Bloomberg Surveillance this morning, Aug. 12, in the "Single Best Chart" segment.
"If you look at it, in 1995, less than 1 percent of the world's population had Internet connectivity, and today it's 40 percent,"
Browning said.
"The Internet of things, the sharing economy—all of those things are not possible without Internet connections."


With permission from Bank of America, we reprinted one chart that caught our attention from each of the five sections in the report—People, Innovation, Earth, Government, and Markets.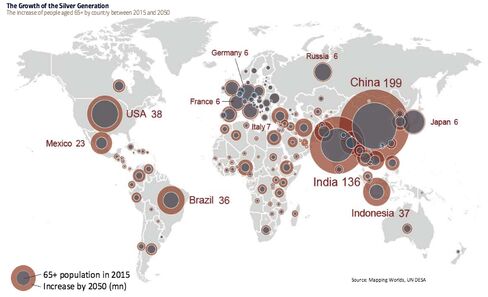 "The spending and savings of the global 'longevity sector' is a huge investment theme; the U.S. longevity sector covering health, finance, and consumer services currently totals $7.1 trillion,"
says BofAML.


Retired baby boomers will see expenses in certain areas, such as health care, rise with age out of necessity—but where these seniors elect to deploy discretionary dollars will have a large impact across Corporate America.
Meanwhile, the growth of China and India's
"Silver Generations"
is projected to dwarf that of the U.S. by 2050.


Globally, this mass exodus from the workforce will put downward pressure on how fast economies can grow while giving labor more bargaining power, all else equal.


The aging population also poses a challenge for policymakers seeking to strike a balance between adequate generosity and funding of pensions.

Automation Nations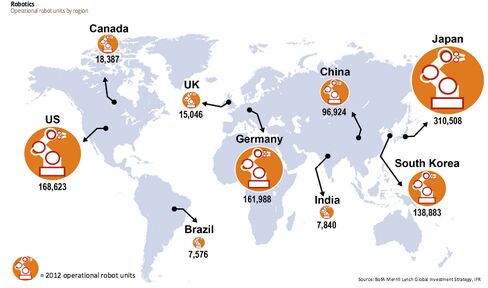 From a worker's perspective, the rise of the robots is a double-edged sword.




In some cases, these technological innovations serve as productivity-boosting tools for employees.
In others, automation reduces the demand for labor.
"In the past 10 years, the number of global industrial robots has grown 72 percent, while the number of U.S. manufacturing jobs has fallen 16 percent,"
says BofAML.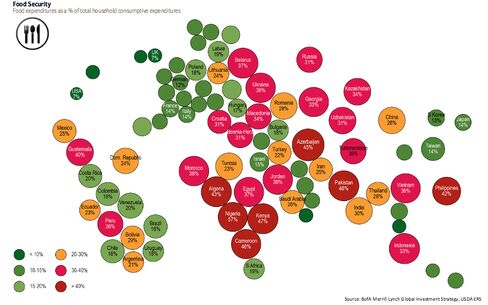 The combination of increasing water scarcity and growth in the world's population suggests that food will become more expensive.
Climate change has the potential to exacerbate water shortages, which would raise an input cost for growing food while simultaneously damaging yields of key crops.




This, according to Bank of America, means that
"future food security will be an increasingly important challenge,"
particularly for populous countries in which residents already spend an outsize portion of their money on nourishment.

Europe's Half-Hearted Integration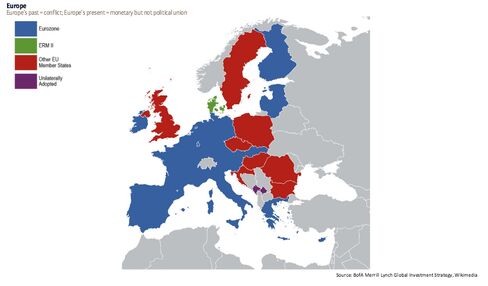 The European Union, we are often reminded, is primarily a political, not economic, project, which helps prevent the outbreak of war on the continent.
In this regard, the project has indeed been a successful one.
This generation of young Europeans may be enduring cripplingly high levels of unemployment, but they have seen nothing of the horrors of war.


Under the current regime, the ties and institutions that bind European countries are manifold, though more complete economic integration remains elusive.


"Europe's current migrant crisis, huge levels of unemployment, historic regional antipathies, and the absence of fiscal and political union continue to cast doubt on the viability of monetary
union,"
writes BofAML.
American Equity Exceptionalism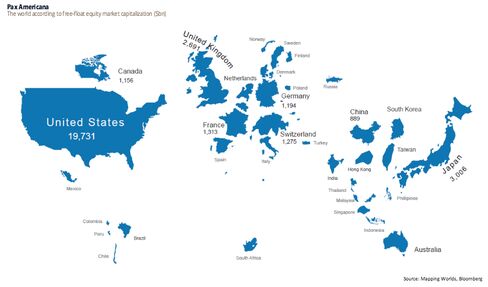 As of July 31, the market capitalization of U.S. stocks totaled nearly $20 trillion (as measured by MSCI), marking the reemergence of America's dominance among global stock markets.
"The U.S. currently represents 52 percent of world market capitalization, the highest since the 1980s,"
says BofAML.
America's hefty share of global equity-market capitalization has been buoyed this year by a continuation of the U.S. dollar's appreciation against other major currencies.
http://www.bloomberg.com/news/articles/2015-08-12/bank-of-america-these-five-maps-show-the-major-global-trends-investors-need-to-know