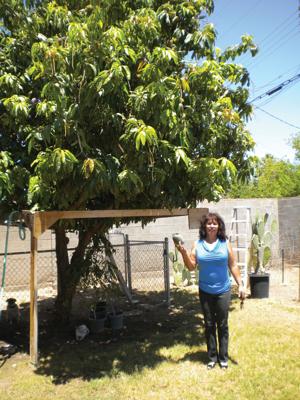 PHOTO BY JOHN VAUGHN/BAJO EL SOL
Next to the tree

Maria Shipp stands next to the mango tree she started two decades ago with seeds brought from Mexico.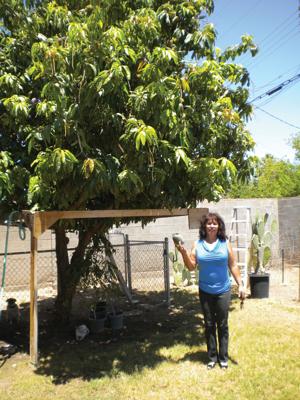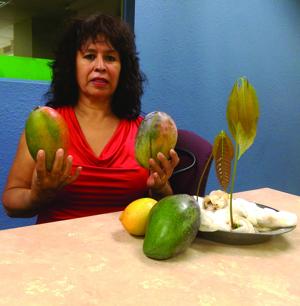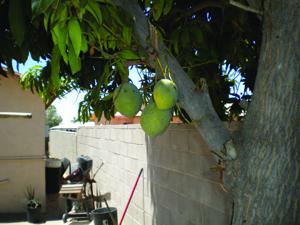 Posted: Sunday, August 9, 2015 7:42 pm | Updated: 8:12 pm, Sun Aug 9, 2015.

By John Vaughn, Bajo El Sol editor
Not everyone with a green thumb can say they've done what Maria Shipp has done: grow a tropical fruit tree in a place as dry and hot as Yuma.
In fact, the Yuma woman has raised not one but two mango trees, one in her backyard and another in the backyard of another home she rents out here.
Shipp isn't saving all the fruits of her labor for herself.
From the mangoes she collects from her trees, she nurtures seedlings that she gives to friends and acquaintances in hopes they will be able to grow their own.
Shipp's had a love affair with the mango since she ate her first one as a child, and now she says she wants to show others that a mango tree can grow in the desert – even if its traditional habitat is tropical areas like the Philippines and Hawaii.
"If (people) want to have a tree here in the desert, they can do it,"
Shipp asserts.
In the backyard of her current residence on 9th Avenue, Shipp has a manila mango tree she started two decades ago from seeds she brought back from Jalisco, Mexico.
Standing about 25 feet in height, it not only bears fruit but provides shade for her dogs when they venture outdoors.
At her other nearby property is a still-older mango tree, this one of the Ataulfo variety that is kept fed by the slow trickle of a garden hose.
Beside enjoying the fruit over the years, Shipp extracts the seeds and nurtures them from the seedling stage. She figures she's given a total of about 200 seedlings to other people.
"I give them to my friends so that they can grow them, so that there are more mango trees here,"
Shipp says, although she says she's not sure whether they've had the same success raising the trees as she.
Kurt Nolte, Yuma County's cooperative extension director, says mango trees typically thrive in warm and tropical areas that get large amounts of rainfall over the course of the year.
The trees have a harder time in areas with a range of temperature extremes such as Yuma, where the mercury rises well above 100 degrees in the summer and can drop as low as freezing in the winter, Nolte said.
In years past, he said, unsuccessful attempts were made to grow mangoes commercially in Yuma County, although he doesn't discount the possibility of homeowners raising the trees in their own backyards, assuming they set up suitable conditions for them.
Aside from periodic or frequent fertilizing plus water, the trees will need protection against freezing, however infrequently that occurs, said Nolte.
"And there would need to be some type of shade to protect the tree from the intensity of the sun in the summer."
http://www.yumasun.com/news/mangoes-from-yuma-woman-helps-tropical-tree-take-root/article_4893b620-3f09-11e5-be59-57b84a57ddb7.html