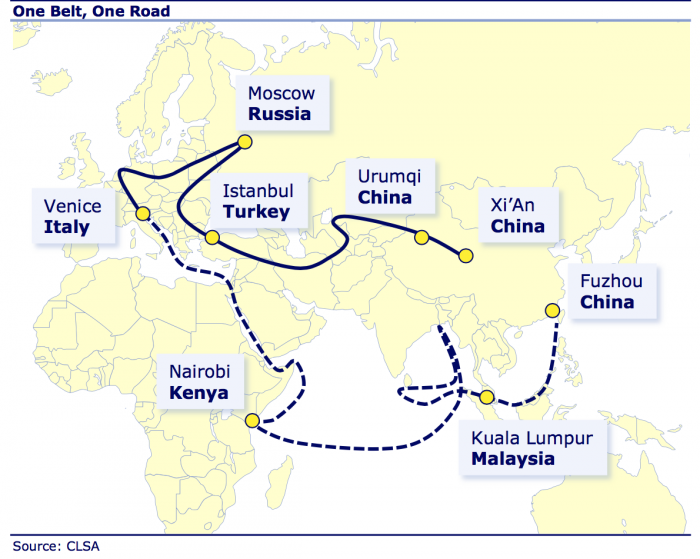 HONG KONG — China's two largest port operators Cosco Pacific and China Merchants Holdings (International) and a third investor have paid close to $1 billion for a controlling stake in a Turkish container terminal, marking the latest giant investment in the mainland's ambitious One Belt, One Road trade strategy.


The joint venture, known as Consortium SPV, includes CIC Capital and the three companies invested $919.8 million to acquire the Kumport Terminal through the purchase of 64.52 percent of the port's sole shareholder, holding company Fina Liman.


Cosco Pacific and CMHI will each hold a 40 percent stake in the joint venture and CIC Capital will hold 20 percent, the terminal operators said in separate filings to the Hong Kong Exchange.


Kumport Terminal is a modern container facility in Turkey's Ambarli Port Complex, which is on the northwest coast of the Marmara Sea on the European side of Istanbul. It is the third largest container terminal in Turkey with six berths and a capacity of 1.84 million TEUs and room to expand to 3.5 million TEUs.




The terminal can handle 18,000 TEU vessels, and in the past five years has maintained a CAGR of approximately 30 percent in container volume with its throughput reaching 1.4 million TEU in 2014.


Istanbul has always been a strategic gateway at the crossroads of Europe and Asia, and Cosco Pacific said in a statement that from a geographical standpoint, Turkey was on both the Silk Road Economic Belt that runs overland from China to Europe, and on the Maritime Silk Road that connects China with South Asia, Africa and Europe.
Cosco Pacific also has a significant investment in the nearby Greek port of

Piraeus

and believes there will be

"business synergy"

between the two ports.






The huge investment is an example of the financial muscle behind the One Belt, One Road plan that aims to build or control infrastructure and ensure China's long-term presence in countries outside the mainland.






A joint CLSA-CITIC Securities report released this week said countries requiring funds for their infrastructure buildout would benefit from the trade strategy. While the report said the plan has been loosely defined, it essentially sought to improve China's relations with Eurasian countries by investing in infrastructure to enhance trade and cultural relations.


At the heart of the plan lies the creation of a Silk Road Economic Belt that links China's dynamic Yangtze River Delta, Pearl River Delta and Bohai Sea economic zones to the European economy. The key to the success of the concept is the development of an unblocked road and rail network between China and Europe.






The 21st Century Maritime Silk Road plans to build ports and maritime facilities from the Pacific Ocean to the Baltic Sea. Kumport Terminal joins Piraeus and CMHI's Colombo International Container Terminal in this strategy.


CLSA said in the report that Chinese President Xi Jinping first proposed the Silk Road Economic Belt in September 2013 while visiting Kazakhstan. He then proposed the 21st Century Maritime Silk Road a month later in a visit to Indonesia, and One Belt, One Road was made public at the November 2014 APEC conference in Beijing.


Asia's dominant mode of freight transport in the foreseeable future is via the ocean and ports, the report found. This was due to the relative ease of building ports and the established shipping links compared to building roads, which require government approvals and rights of way.


But land transport will become increasingly important for regional integration in Asia as it is a better people carrier and can be more cost effective for large volumes of freight.
Despite high initial startup costs, railways can transport passengers and high freight volumes inexpensively. Roads also provide easy access to economic centres, such as schools, hospitals and other social services.
It will not be cheap, according to CLSA. Transport infrastructure across Asia is expected to require the second-highest level of investment after energy at $225 billion a year.









Contact Greg Knowler at greg.knowler@ihs.com and follow him on Twitter: @greg_knowler.



http://www.joc.com/port-news/china-port-giants-pour-1-billion-turkish-terminal_20150917.html