Himanshu Bhatt,
TNN | Sep 10, 2015, 11.23 AM IST







SURAT: Less rains this monsoon mean banana, papaya and paddy among other crops will suffer damage, but the phenomenon could actually benefit mango plantations in south Gujarat. Average rainfall in south Gujarat is around 1,750mm but so far the region has received only 50% of it.
The dry spell will help cause good flowering and early firming up of fruits on mango trees, horticulture experts said, adding that the fruit had witnessed moderate production in the state in the past few years.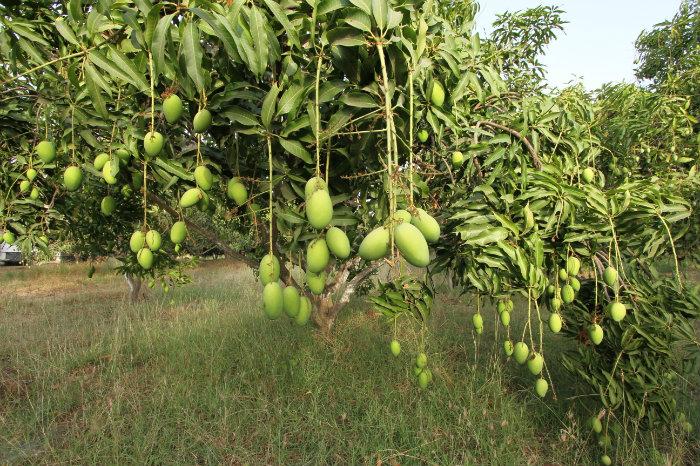 Dr. B M Patel, associate director of research, Navsari Agriculture University (NAU), said,"Deficient rainfall may affect crops grown on yearly basis. However, output of mango trees may see an increase in this dry spell."
Mango and sugarcane are major cash crops in south Gujarat. Valsad and Navsari districts account for 45% of total production of mangoes in the state.
N I Shah, former in-charge of NAU's mango farm in Pariya in Valsad district, said,
"Trees, which have roots that go deep into the soil, draw required water from underground moisture. The stems and branches get water from soil and this leads to consistent flowering even during a dry year. The fruits set a little early and are firmed up."


S. S. Ganvit, joint director of horticulture, Government of Gujarat, said,
"There is high possibility of early flowering and even if rains occur now, normal pattern of flowering won't change. But, everything depends on a spell of cold. A 10-day spell of cold would result in good flowering on the trees. Carbon-nitrogen ratio is very important for fructification."
http://timesofindia.indiatimes.com/city/surat/Mangoes-to-make-the-most-of-long-dry-spell-in-Gujarat/articleshow/48895819.cms