http://www.bloomberg.com/news/articles/2015-10-13/heineken-is-fine-drinking-alone-brooke-sutherland



Brooke Sutherland
October 13, 2015 — 12:28 PM PDT
Heineken is the odd man out in the world's biggest beer merger, and that suits it just fine.
The world's third-largest brewer is set to face a much larger rival as AB InBev and SABMiller ready their
gargantuan $106 billion merger
. There's no doubt that the competition is going to get bigger, stronger and more efficient for Heineken. But the brewer seems up for the challenge.
Consider this: Heineken was
one the few big European brewers to actually
increase sales
on the continent in the first half of the year amid price competition and sluggish demand. Analysts estimate the brewer will boost global revenue 14 percent to about 22 billion euros by the end of 2017 -- and that's without a mega-merger to inflate its numbers.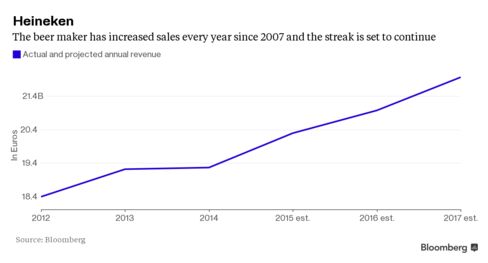 Matching MegaBrew's size will be impossible for Heineken, with a market cap of $49 billion. But there's a benefit to staying smaller and nimbler. Maybe Heineken knew what it was doing when it rejected SABMiller's advances last September, choosing to stay independent. While AB InBev and SABMiller are occupied with digesting their massive deal, Heineken will be in a prime position to make the acquisitions its rivals are too distracted to consider.
The growth in beer right now lies primarily in craft brews and regions like Africa and Asia, where the drinking population is still expanding. There are plenty of small operators up for grabs that could help boost Heineken's growth without breaking the bank. That's not counting the assets AB InBev and SABMiller will have to divest to win over regulators.
Don't expect any transformational purchases. There just aren't many big beer targets left, save for Danish brewer Carlsberg, whose plunging sales in Russia leave much to be desired. Large takeovers aren't always wh
at they're cracked up to be, anyway, as my colleague Tara Lachapelle points out. There's an
opportunity cost
to AB InBev and SABMiller's merger that could be Heineken's gain.
The company has already taken advantage of the reduced competition in the M&A market. Last week, it agreed to pay
$781 million
to take control of brands like Jamaica's Red Stripe beer and Malaysia's GAPL Pte Ltd. from joint-venture partner Diageo. That followed a September agreement to buy a 50-percent stake in craft brewer Lagunitas.
Shareholders are backing the independent route. Heineken's stock has gained about 27 percent since shunning SABMiller. That's almost double the gains for SABMiller over that stretch. Remember, SABMiller, not Heineken, is the one that just agreed to a big premium.

MegaBrew had better watch out for the little guy.





(This column does not necessarily reflect the opinion of Bloomberg LP and its owners.)