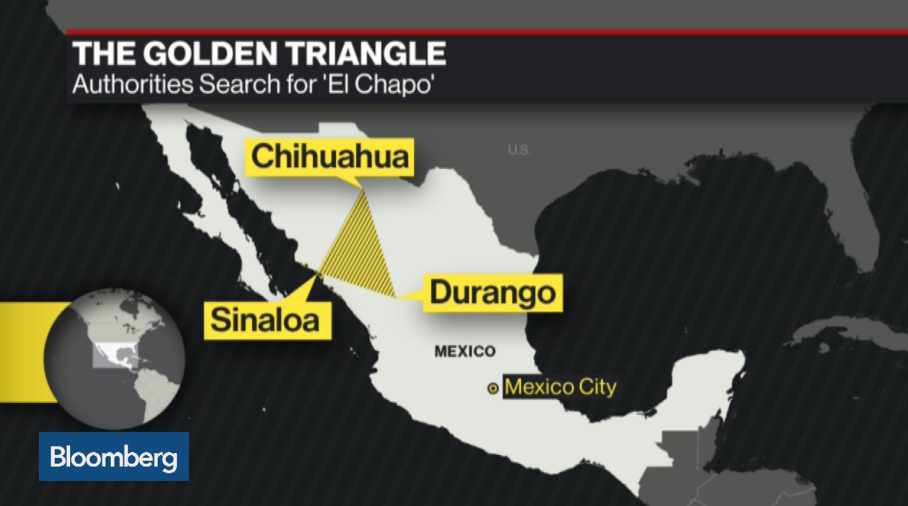 OCT 19, 2015 @ 03:26 PM
Dolia Estevez

CONTRIBUTOR

I cover Mexico's billionaires, politics and U.S.-Mexico relations


Opinions expressed by Forbes Contributors are their own.
In the 100 days since his dazzling escape from a Mexican high-security prison, Mexican drug kingpin
Joaquín
"El Chapo"
Guzmán
has narrowly evaded being re-captured twice, according to U.S. and Mexican sources. Around ten days ago, the world's most dangerous drug trafficker barely escaped being detained and suffered injuries to his leg and face as he
"engaged in a hasty retreat,"
the Mexican government said.


How close is the head of the Sinaloa drug cartel- a multi-billion dollar criminal enterprise believed to control an estimated one-third of the U.S. illegal narcotic market- to being caught?
Guzmán was arrested on Feb 22, 2014; he escaped 17 months later from a Mexican high security prison. (Susana Gonzalez/Bloomberg)
"There is ongoing work of the investigators on both sides of the border who are dedicated to his re-capture,"
a U.S. Administration official, who spoke not for attribution, told me. He declined to predict when that could happen.
"I couldn't-and wouldn't–say when,"
he said by email.
When asked if he felt optimistic, he replied:
"Here's what I am optimistic about: El Chapo will not be a happy, contented, comfortable elder gentleman who will look back with pride and satisfaction on his life's work from a rocking chair in Badiraguato."
Badiraguato is Guzmán's birthplace in the Northern coastal state of Sinaloa.
Michael Braun, former head of DEA Operations,
told NBC
that
"Today [Guzmán] is a dead man walking. It's only a matter of time."
Mexican experts are more optimistic in predicting that Guzmán will be re-captured sooner rather than later. Javier Oliva, a security expert in Mexico's National Autonomous University (UNAM), told a radio interviewer Monday that,
"It will not be long from now, perhaps a month, before Guzmán is re-captured."
Samuel González, a security analyst and former official in the Attorney General's office, agreed. González told a Mexican radio station Monday that ongoing U.S. intelligence intercepts of Guzmán's communications
"will produce results in the following weeks or months."

NBC reported Saturday that Mexican Marines zeroed in on Guzmán after U.S. law enforcement agents intercepted cell phone signals suggesting El Chapo was hiding at a ranch near Cosala in the rugged Sierra Madre mountains in Mexico's Golden Triangle, located on the border of Sinaloa, Durango and Chihuahua.
Dozens of bullets hit cars and houses in Mexio's rugged Sierra Madre mountains, during a recent Marine operation chasing fugitive kingpin Guzmán. (RONALDO SCHEMIDT/AFP/Getty Images)


Based on information by unidentified sources, NBC added that Marines raided the ranch in helicopters, but were forced to turn back after taking fire from Guzmán security forces. The Marines later entered the camp on foot and discovered cell phones, medication and two-way radios, but Guzmán and his accomplices are believed to have fled on ATVs. NBC reported that Guzmán had been injured.
In a joint statement
by a coalition of federal security agencies on Friday, the Mexican government confirmed Guzmán's injuries, though it did not say if they were serious or how they knew about them. The government said the injuries were not a product of a direct clash.




The statement also confirmed that military operations have taken place across Mexico to re-arrest Guzmán based on intelligence and information provided by

"international agencies"

(namely U.S. agencies.) In the past

week

the raids have been focused on Mexico's Northern region.
Since his escape, authorities believe Guzmán went into hiding in Sinaloa.
In August, Chuck Rosenberg, acting head of DEA, said the U.S. government is confident Guzmán remains holed up in Sinaloa since escaping from prison.
"It's where he could feel the most secure,"
Rosenberg said.
Guzmán escaped July 11 from the high-security prison Almoloya, near Mexico City, through a mile-long tunnel, causing a major embarrassment for Mexican President
Enrique Pena Nieto
. He had been arrested just 17 months earlier.
If history is any indication, optimism about Guzman having his days of freedom counted should be taken with a grain of salt.
Throughout his long criminal career Guzmán has proven to be one of the world's most elusive fugitives.
Assisted by corrupt Mexican law enforcement officials, Guzmán has repeatedly outsmarted his trackers. It took Mexican authorities 13 years to find him after his first prison escape in 2001.
Guzmán is expected to be immediately extradited to the U.S. if and when he is caught.
@DoliaEstevez


http://www.forbes.com/sites/doliaestevez/2015/10/19/is-mexican-drug-lord-el-chapo-guzmans-capture-imminent/