In response to weak demand, Maersk has also cancelled options for eight containerships - six 19,630-TEU vessels and two 3,600-TEU feeder ships - and could cancel eight more, according to the Danish shipping conglomerate.

The world's largest container shipping company, Maersk Line, said it will eliminate 4,000 jobs or about 17 percent of its 23,000 land-based staff as it seeks to reduce sales, general and administrative costs by $250 million per year.
The ocean carrier expects to achieve savings of $150 million in SG&A costs in 2016. A chart from a presentation Maersk Line gave Sept. 9 shows that annual SG&A expenses have declined at a compound annual rate of 2.3 percent or about $150 million between the first quarter of 2012 to the second quarter of this year when they amounted to about $2.025 billion.
Maersk Line to cut
'at least'
4,000 jobs, reduce capacity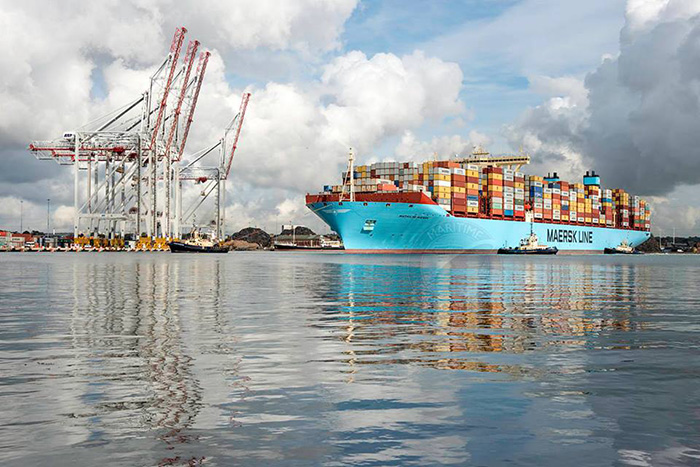 LONDON —
Maersk Line
today said it will eliminate
"at least"
, 4,000 jobs, reduce capacity and cancel options for six
mega-ships
in a bid to defend its leading share of a slowing ocean container market.
"We are on a journey to transform Maersk Line. We will make the organization leaner and simpler,"
Soren Skou, the Danish carrier's CEO said.
Maersk said it plans to reduce its land-based global staff of 23,000 by at least 4,000 by the end of 2017 helped by an ongoing program of automation and digitalization.
"We are fewer people today than a year ago. We will be fewer next year and the following year. These decisions are not taken lightly, but they are necessary steps to transform our industry,"
Skou said.
Maersk said it expects to lower its annual sales and administration costs by $250 million, with $160 million in savings achieved in 2016.
The world's largest carrier said it does not plan to exercise options for six 19,630 twenty-foot-equivalent unit capacity ships and two 3,600-TEU feeder vessels. It has postponed a decision on an option for eight 14,000-TEU ships.
Maersk will also reduce its network capacity in the fourth quarter of 2015 and through 2016

"as a response to the current market outlook."
A further 35 sailings will be canceled in the fourth quarter following
the closure
of four services in the past two months.
"These initiatives will allow Maersk Line to deliver on the ambition to grow at least in line with the market (and) to defend the market-leading position,"
the Copenhagen-based carrier said.
Today's announcement comes two weeks after the
Maersk Group
slashed its 2015 profit outlook by 15 percent,
or $600 million
, citing the deteriorating global container shipping market.


The oil and shipping group now expects to post a full-year underlying profit of $3.4 billion, down from a previous estimate of $4 billion. Maersk Line is expected to book a profit of around $1.6 billion, down from an earlier forecast of $2.2 billion.
Maersk will publish its third-quarter results Friday.

Contact Bruce Barnard at brucebarnard47@hotmail.com.






http://www.joc.com/maritime-news/container-lines/maersk-line/maersk-line-axe-%E2%80%9C-least%E2%80%9D-4000-jobs-reduce-capacity_20151104.html