TUOI TRE NEWS

UPDATED : 11/08/2015 12:01 GMT + 7
Vietnam's Cat Chu mango was promoted in Japan on November 7, 2015.

A product promotion to advertise Vietnam's Cat Chu mango was organized by the Vietnamese Embassy in Japan and Japanese retail giant Aeon at its mall in the prefecture of Chiba on Saturday.


This is the first consignment of imported Cat Chu mango, a popular variety with yellow skin and sweet soft meat commonly grown in the southern Vietnamese province of Dong Thap, which is being sold in Aeon's supermarket network.


During the promotion, hundreds of Japanese shoppers showed an interest in the eye-catching color as well as sweet taste of the Vietnamese fruit and decided to purchase in large quantities for use or giving as gifts.


Medium-sized Cat Chu mangoes were sold at JPY389 (US$3.16) per fruit and large-sized ones at JPY598 ($4.86) apiece, tax excluded.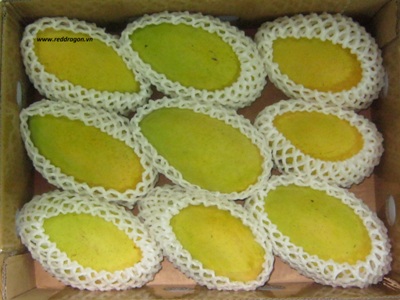 The prices are considered cheaper than those of other mango varieties from Japan and other countries which are currently sold in the Japanese market.


Yasaka Limited Company, a fruit processing and exporting firm in the southern province of Binh Duong, is expected to ship 10 metric tons of the fresh Vietnamese mangoes this month, according to the company's director, Watanabe Wataru.

Vietnam's Cat Chu mangoes are seen on sale in Japan.


Yasaka, along with Good Life Ltd. Company in Ho Chi Minh City, are the two businesses which are responsible for the export of Cat Cu mango to Japan and expect the total exporting output to be 100 metric tons by the end of this year.


The price will be relatively higher than that in Vietnam due to extra expenses, including transportation, inspection and insect extermination.


It took five years before the Vietnamese mango variety could be imported into Japan, as the process underwent several phases of negotiation, inspection, and growing area surveys, according to Nguyen Trung Dung, a trade counselor from the Embassy of Vietnam in Japan.


The export of mango to Japan is a significant achievement for Vietnam and leverage for other kinds of Vietnamese fruit to enter the Japanese market in the future, Nguyen Quoc Cuong, Vietnamese Ambassador Extraordinary and Plenipotentiary in Japan, said at the product promotion.


Cat Chu mango is the second Vietnamese fruit to be exported to Japan after dragon fruit that has been shipped to the country since 2009.
http://tuoitrenews.vn/business/31472/vietnamese-mango-promoted-in-japan