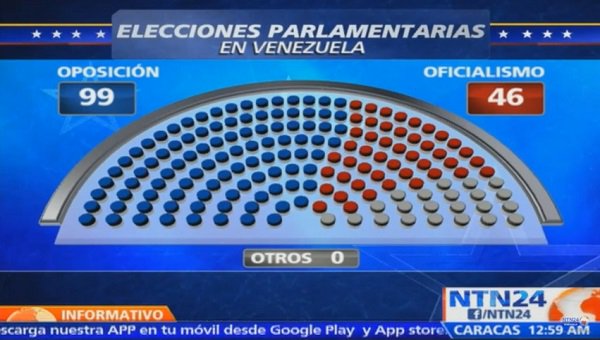 The Venezuelan Electoral Board just announced the first official results announcing the Opposition obtained With 96.03% of the vote 99 Deputies and Chavismo's PSUV obtained only 46 Deputies.
This means a super majority, a scenario that I considered highly unlikely even today.
17 Deputies by name can not be defined, the three indigeneous people and one by list. 74% of the people voted.






De confirmarse una victoria superior a los 110 diputados, la oposición estaría en condiciones de iniciar un verdadero cambio en Venezuela, y contaría con suficiente para anular el control que el chavismo actualmente ejerce sobre el Tribunal Supremo de Justicia y sobre las autoridades lectorales.
Una victoria inferior a esa proporción, de entre 100 a 111 diputados, permitiría aprobar un voto de censura del vicepresidente y los ministros, lo que implicaría su destitución, además de aprobar leyes.



Y una victoria con una mayoría simple, de entre 84 y 99 diputados, le daría a la oposición el poder de aprobar leyes y modificar la manera en que venía administrando las arcas del Estado, pero no estaría en condiciones de representar mayores amenazas a la permanencia en el poder de Maduro.
Situación es distinta para el actual presidente de la Asamblea Nacional, Diosdado Cabello, quien tendría que abandonar su puesto bajo una mayoría de la oposición.
http://www.elnuevoherald.com/noticias/mundo/america-latina/venezuela-es/article48381400.html