ILA's Daggett 'furious' at NY-NJ port strike


Joseph Bonney, Senior Editor | Feb 01, 2016 12:56PM EST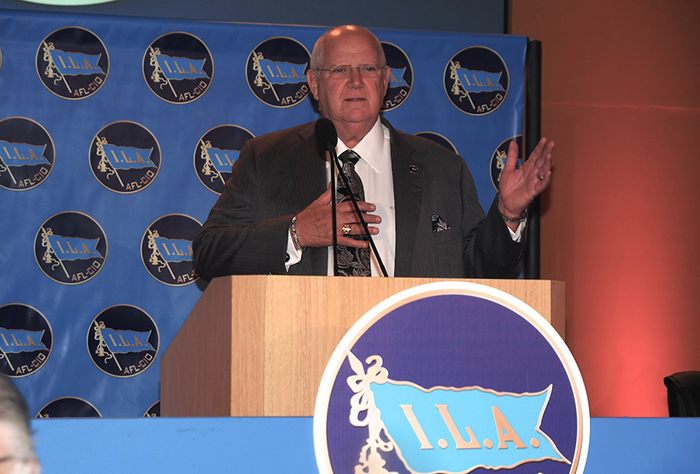 ILA President Harold Daggett






Last Friday's surprise dockworker strike at the Port of New York and New Jersey wasn't instigated by any single International Longshoremen's Association local and was not sanctioned by the union, ILA President Harold Daggett said Monday.


"I was furious that these guys walked out,"

Daggett told JOC.com.






Daggett angrily disputed JOC.com reports that the strike originated within the ILA's mechanics Local 1804-1, which he headed for years and now is led by his son Dennis, the international union's executive vice president.


"Everybody walked out together,"

the ILA president said.

"It wasn't just one local that did this."



Daggett said he had no advance word of the strike, which began when ILA workers suddenly walked out of all terminals at 10 a.m. Friday, delaying thousands of pickups and deliveries and leaving some drayage drivers stranded inside terminals for hours.




Work resumed Friday night after an arbitrator ruled the walkout a violation of the union's no-strike contract, and the ILA urged members to return to work. The New York Shipping Association had been preparing to go to court to seek a back-to-work injunction.




All terminals returned to full operations Monday morning with heavy truck traffic and long queues outside gates. Friday's walkout came as the East Coast's busiest port was backlogged after a four-day winter storm closed the port last week.


Because the strike was unaccompanied by picket signs or any official explanation, there was confusion over its cause and timing.



Daggett shed no light on that in a brief telephone interview, but ILA spokesman James McNamara said workers described it as a spontaneous protest to highlight alleged harassment by the Waterfront Commission of New York Harbor, and union concerns about chassis jurisdiction and technology.



The ILA and the commission have clashed over the commission's effort to shake up the waterfront work culture by reducing the union's traditional influence over job referrals, and over the union's complaints that the commission is harassing members.


The Waterfront Commission is unique to New York-New Jersey. It was created in 1953 to fight corruption on the docks. The agency regulates the size of the longshore workforce, performs licensing and background checks, and conducts investigations.


In 2012 the union and its employers unsuccessfully sued the commission, claiming the commission overstepped its authority by trying to micromanage hiring procedures established in the NYSA-ILA labor contract. A federal appeals court is expected to rule on the case soon.




Walter Arsenault, the Waterfront Commission's executive director, said fair and nondiscriminatory hiring and drug testing are the only two issues in the past year in which the ILA contends the agency has interfered with the union's collective bargaining rights.


"We're not backing down on either issue,"
Arsenault said.
"Port safety is too important to compromise by not drug-testing people, and we certainly aren't going to back down on our insistence that they hire in a fair and nondiscriminatory fashion."


He would not comment on reports of a current federal investigation of corruption involving ILA members.




McNamara said numerous workers have complained that the commission has used the union contracts drug-testing requirements to harass dockworkers, including ILA members in 12-step recovery programs.





Arsenault said Local 1804-1
"has repeatedly gone to court to quash subpoenas for drug testing, and they've repeatedly lost. We will continue to drug-test when we have reasonable suspicion that someone is under the influence."

The Waterfront Commission has opened an investigation to try to identify the organizers of last week's strike. Arsenault said that, depending on what investigators learn, investigators could impose administrative penalties or even seek criminal prosecution.

He said he couldn't speculate about what the striking ILA members hoped to accomplish.
"Other than flexing their muscle, I really don't know,"
he said.
"Anybody who's taken a look at it says that they damage themselves by doing this."
http://www.joc.com/port-news/us-ports/port-new-york-and-new-jersey/ila%E2%80%99s-daggett-%E2%80%98furious%E2%80%99-ny-nj-port-strike_20160201.html