The Best Mangoes in the World
Every April, I call the
Patel Brothers
in Queens, N.Y., about once a week to inquire politely about their mango situation. The Indian grocery chain is my most reliable source for the fruit, stocking fresh mangoes all year long from the Dominican Republic, from Mexico, from wherever else it can find them.
And don't get me wrong, those mangoes are fine.
But what I'm waiting for is the first shipment of mangoes from India, which produces some of the finest mangoes in the world, and these start to arrive when the season kicks off in April.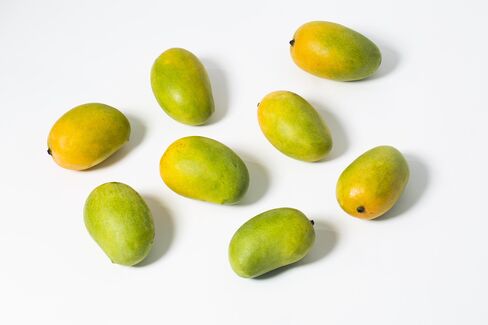 Photographer: Evan Ortiz/Bloomberg


There are many hundreds of varieties, from pulpy yellow Pairis you can slurp right out of the skins to tiny green Seelams, small and fat as a baby's fist. The one I look out for in New York is the Kesar. When ripe, it's fat with juice, sweet as candy, the flesh so creamy and soft it can almost hold a fingerprint.
Kesars have drippy, neon orange flesh and smooth skins in ombré shades of green and yellow. Though the odd one can be fibrous, tart, or fluffy, there are always a few perfect ones each season to remind me why I go crazy, each year, waiting for the Kesars to come in.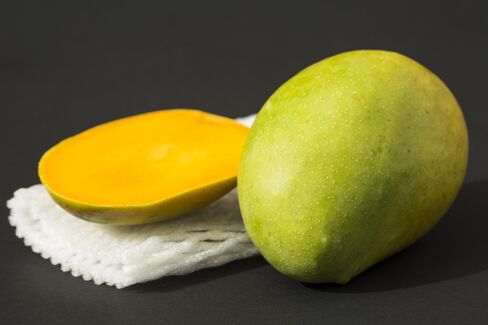 Ripe Kesar mangoes from India, some of the best fruit in the world, are currently in season.
Photographer: Evan Ortiz/Bloomberg
And good news: They're in.
It's just the start of the season; about 100,000 tonnes of Indian mangoes will travel to the U.S. before the season ends in June.
That's almost twice what we got last year when early rains ruined massive amounts of India's crop (and prices almost doubled).
If you can get your hands on them now, a box of about nine to 12 Kesar mangoes will set you back $30, each one tucked into a soft sleeve, like something truly precious.
http://www.bloomberg.com/news/articles/2016-04-28/the-best-mangoes-in-the-world-are-now-in-season-kesar-from-india