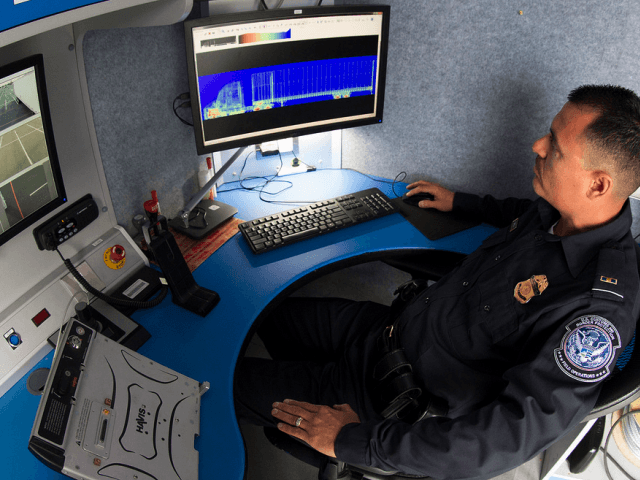 Photo: U.S. Customs and Border Protection

by BOB PRICE
21 May 2016
Officials in South Texas report the seizure of over $1 million in cocaine and marijuana in two shipments being smuggled across the U.S.-Mexico border. One truckload of mangos being shipped in from Mexico contained 151 pounds of cocaine.
U.S. Customs and Border Protection (CBP) officers assigned to the Pharr International Bridge that connects with the Mexican city of Reynosa discovered two different smuggling attempts. The shipments were both being smuggled in commercial vehicles, according to a statement from CBP officials obtained by Breitbart Texas.
Tuesday evening, CBP official observed a commercial vehicle crossing the bridge. Documentation revealed the truck was carrying a load of mangoes. Officers referred the shipment, being driving by a 51-year-old man from Michoacán, Mexico, to a secondary inspection station.




Officers used a non-invasive scanning system and observed anomalies in the shipment. Following the discovery

by

the imaging system, officers conducted a physical inspection and discovered 60 bundles of what later tested as cocaine. The drugs weighed 151 pounds. Officials estimate the street value of the cocaine at nearly $1,165,000. The truck and cargo were seized and the Michoacán man was arrested and turned over to Homeland Security Investigations (HIS) for prosecution.
Earlier that same day, another commercial vehicle was crossing the bridge from Reynosa, Mexico. The truck was driven by a 26-year-old man from Nuevo Leon, Mexico.
A
CBP K-9 officer
alerted to the scent of drugs inside the truck. An inspection of the contents revealed 60 packages of marijuana. CBP officers estimated the 685 pounds of marijuana to be worth $137,000. The cargo and truck were seized and the Mexican national was turned over to HSI for further investigation.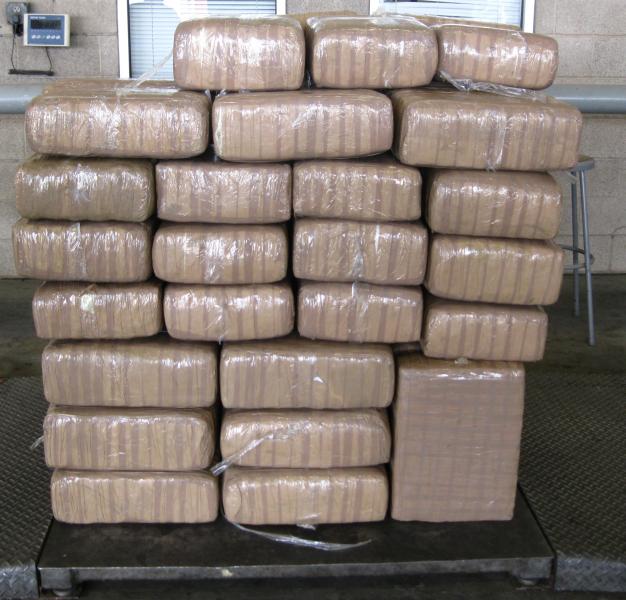 685 pounds of marijuana seized. Photo: CBP.GOV
"Our officers have once again demonstrated great awareness and diligence with the interception of these two outstanding seizures of narcotics at our cargo facility,"
Hidalgo/Pharr/Anzalduas Port of Entry Port Director Efrain Solis Jr. said in the written statement obtained by Breitbart Texas.
"Balancing the trade facilitation aspect of cargo processing with an enforcement mindset is a function of CBP Field Operations that is accomplished on a daily basis."
This cocaine seizure is the second largest shipment of drugs discovered in less than a week by CBP officials in Texas alone.
On Friday, May 13, officers working in Del Rio, Texas, discovered a half-million shipment of Cocaine being smuggled in from Ciudad Acuña, Coahuila, Mexico.
The sedan was loaded with 41 pounds of methamphetamine and 12.5 pounds of cocaine. Officials estimated the combined value of these drugs to be 4575,525, Breitbart Texas
reported
.


Bob Price serves as associate editor and senior political news contributor for Breitbart Texas and is a member of the original Breitbart Texas team. Follow him on Twitter@BobPriceBBTX.
http://www.breitbart.com/texas/2016/05/21/smugglers-hide-1-million-cocaine-within-mango-shipment-say-feds/