Updated: March 23, 2016 05:57 IST
K.A. SHAJI
Mango trees in full bloom at Muthalamada in Palakkad. The Ashrayam Rural Development Society has started an initiative to make value-added products from organically cultivated mangoes.–Photo: K. K. Mustafah
Value-added mango products to hit market soon
In a welcome initiative to shrug off the dubious legacy of Kerala's mango capital Muthalamada as a toxic hub where orchards indiscriminately spray high-end pesticides on fruits, a grassroots-level initiative is now taking place with women of the panchayat getting training in processing and making value-added products using organically cultivated mangoes.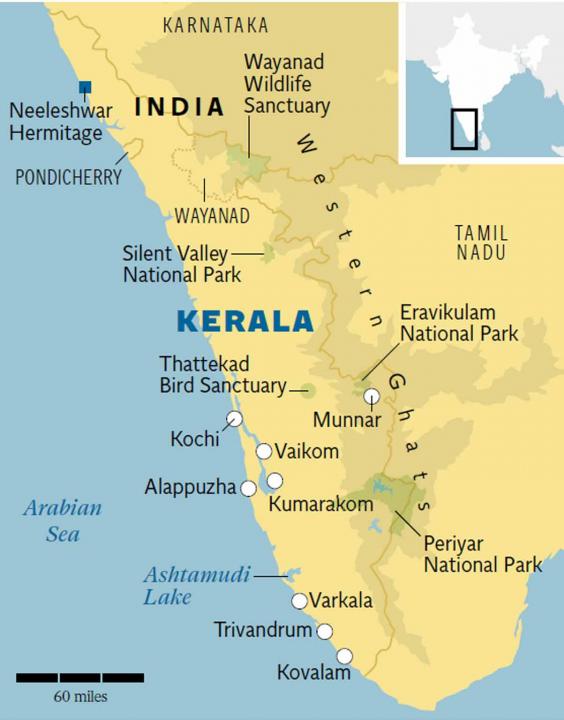 Half-a-dozen such mango-based products would hit the Kerala markets on the occasion of Vishu, the harvest festival.
"We began the initiative in Pothanpadam village by training 20 women to make pickle using both fresh mangoes and dried mangoes. They are also trained to make mango pulp, mango jam, ready-to-consume mango drinks and mango-based confectionaries. The Muthalamada Mango Farmers Association (MGFA) and leading traders in the panchayats will ensure supply of the organically grown mangoes and sale of the finished products. The products would be made available across the State in a fortnight,"
said S. Guruvayurappan of Ashrayam Rural Development Society, which has taken up the initiative.
Talking to The Hindu , he said the aim of his organisation was to gradually transform Muthalamada into a fully-organic mango destination.
The mango season has just started in Muthalamada and over 300 mango growers are now marketing fully organically cultivated mangoes.
"The new initiative to make mango-based products has secured the support of even farmers and traders. Farmers lost many export orders in the recent past owing to the heavy use of pesticides and chemicals. We have also approached the State government seeking establishment of a mango research centre in Muthalamada with reputed scientists at the helm to guide us further in the organic way,"
said Arumugan Pathichira, a social activist in the panchayats.
"Ashrayam is now providing training to mango farmers to develop enzymes using vegetable and fruit wastes. Mixing 3 kg of vegetable or fruit waste with 1 kg of black jaggery and 10 litres of water and keeping the mix for next 90 days would create enzyme for a normal plantation. Apart from being a killer of pests, it would also help growth of quality mangoes,''
said Mr. Guruvayurappan, who is also an expert in bio-fertilizers.
http://www.thehindu.com/news/national/kerala/mango-hub-goes-the-organic-way/article8387393.ece