Posted on February 25, 2017
http://www.miami.com/miami-news/the-mango-gang-reunites-at-south-beach-wine-food-festival-152867/
Chef Allen Susser, one of the Mango Gang, Miami's rock star chefs.

By Lesley Abravanel
For miami.com
Celebrity Chefs
SOBEWff

The original Mango gangsters of Miami's trailblazing '80s and '90s food scene – Norman van Aken, Allen Susser, Douglas Rodriguez, Mark Militello, Cindy Hutson and Robin Haas reunited Friday night for a sold-out South Beach Wine and Food Festival Mango Gang reunion dinner at Hutson's downtown restaurant Zest. The gang was aided by protégés turned rock stars in their own rights, Jeffrey Brana and Danny Serfer.
Among those in attendance, outspoken CNN pundit Ana Navarro, who was overheard telling Susser she missed him and wished he had a restaurant in Miami. Susser was flattered but basically said, been there done that and he's happy in his current role as a chef consultant.

As for where the others currently are today, Hutson is obviously in Coral Gables and Grand Cayman with Ortanique, and in downtown Miami and Negril, Jamaica with Zest. Militello is at Josie's, a two-decades-old family run hidden Italian mainstay in Boynton Beach.

Van Aken is in Central Florida with Norman's at The Ritz-Carlton, Orlando and 1921 in Mount Dora and his impending In the Kitchen cooking school at The Vagabond.


Haas is in Baltimore running the shows at Birroteca, The Nickel Taphouse and Encantada.


Rodriguez is doing catering and food-centric travel at DRod Culinary Adventures.
Serfer, a Susser protege for whom he credits much of his success and sobriety, is at the helm of three of his own Miami restaurants, Blue Collar and Mignonette.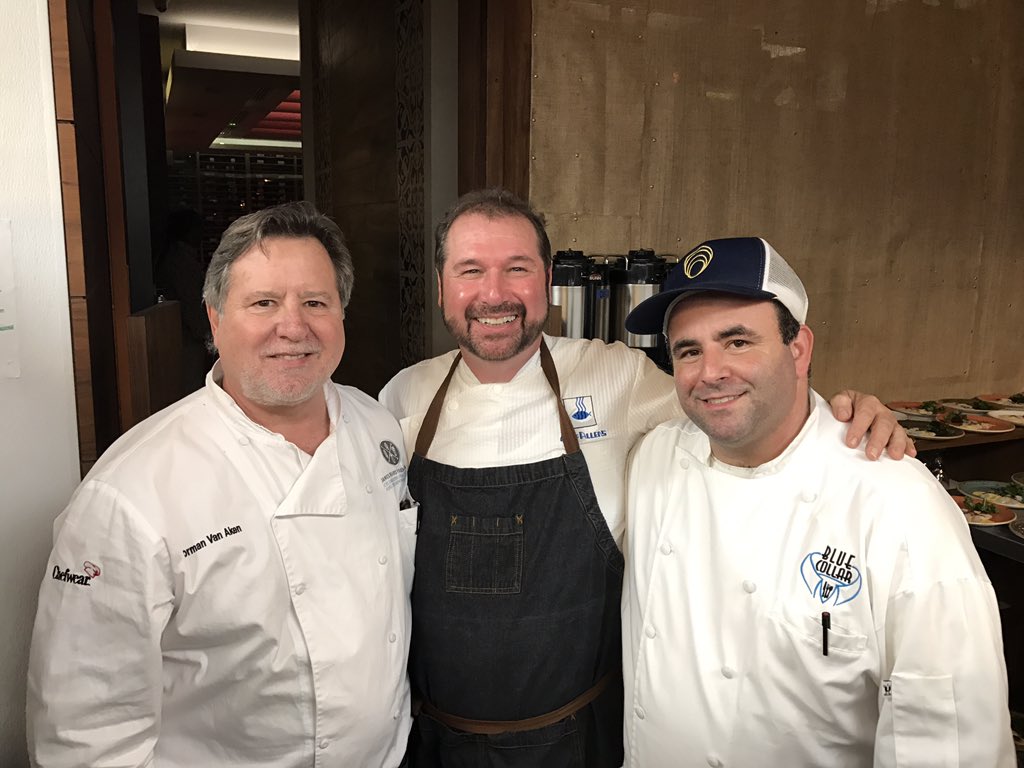 Blue Collar @bluecollarmiami


Getting be part of the mango gang dinner with your idols is priceless @normanvanaken @AllenSusser
4:53 PM - 24 Feb 2017

11 Retweet
77 likes
Brana, a Van Aken alum, is currently in Tampa but working his way back to Miami, he told us.
Said Van Aken on his Twitter account, "Mango Gang rides again. Weathered? Sure. But still…#gameon!"
Norman Van Aken @normanvanaken


#MangoGang Rides Again. Weathered? Sure. But still... #GameOn! #sobefww #sobe2017 @inthekitchennva... http://fb.me/5EA9wLgZg
11:43 AM - 24 Feb 2017

Retweets
likes

ABOUT THE AUTHOR:
Lesley Abravanel NY-grown, FL-tanned, scribe, word nerd, TV junkie, game show champ, yenta, wife, twin mama, hot sauce collector, Bloody Mary maven &, says @NYPost, savvy gadfly