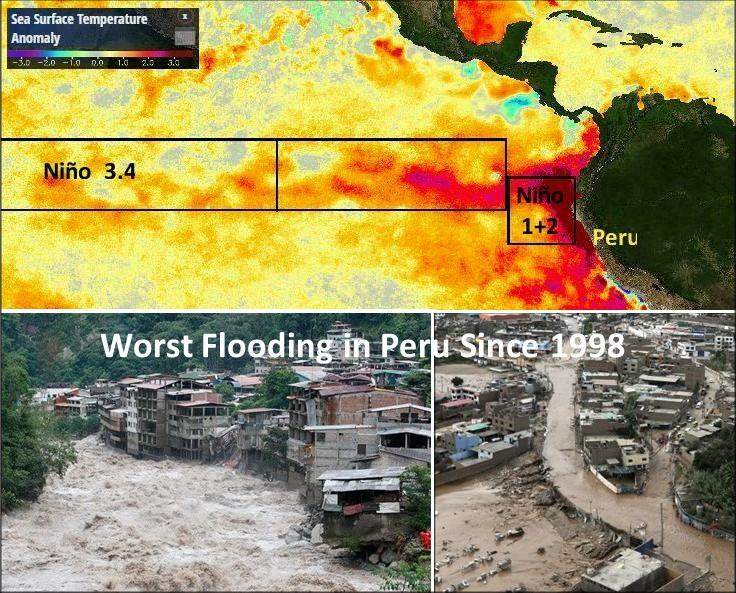 An unusual bout of heavy rains powered by El Niño conditions have drenched parts of Peru with 10 times more rainfall than normal, causing rivers to overflow, and mudslides to destroy roads and farms.
More than 70 deaths have been attributed to the flooding, which has isolated hundreds and displaced thousands. Rescue crews continue to search for those in need, while some residents are now beginning clean-up and recovery work.
Officials have warned that the wetter weather might last another month or more.

The worst flooding in 20 years is scouring the arid landscape of coastal Peru.
Exceptionally warm water in the Pacific Ocean is fueling torrential rain in western South America, which then comes pouring down out of the mountains.
The extraordinary amount of water has overwhelmed surrounding towns.

It looks a whole lot like El Niño in Peru, but you won't be hearing that description from climate forecasters anytime soon.

Flooding is expected to continue for another two weeks, and the death toll is a moving target.
However, 72 people have died so far as of Saturday, according to the
Associated Press
.
On March 10,
Climate.gov's Tom DiLiberto said
rainfall in this region is running 10 times that of normal:
With more than a month left to the season, 2017 is already likely one of the wettest years on record for San Miguel in the Piura province. Around 10 inches of rain has fallen since January 1, when, on average, the entire rainy season usually totals just two inches of rain. Farther inland in the Piura region, a weather station in Morropón recorded 43 inches of rain since the start of 2017. At this point of the year — early March — Morropón's average rainfall is about 4 inches.
https://www.washingtonpost.com/news/capital-weather-gang/wp/2017/03/20/peru-flooding-el-nino/