This is the latest attempt to rename the very popular mango cultivar discovered in a coffee plantation in Chiapas, Mexico.
First Ciruli Brothers tried to change the name to "Champagne" mango and then Tavilla Los Angeles tried to call it a "Van Gogh" mango ...
What next???
Rename The Tommy Atkins or the Haden mango???
The marketers should respect the origin of the mango and honor the people who discovered these cultivars!!!


The scientific community (ISHS Mang Working Group) needs to set these marketing clowns straight!


From the National Mango Board website:

ATAULFO NOW "HONEY"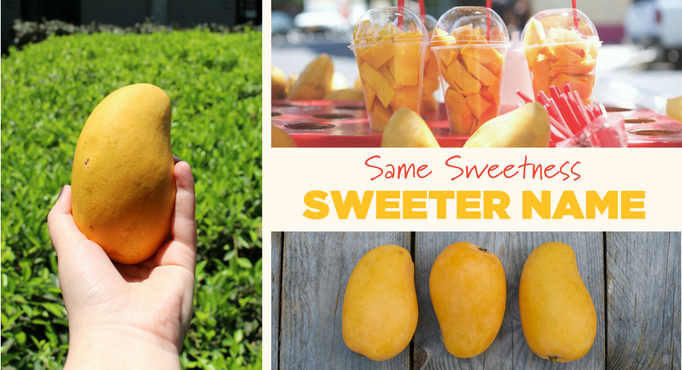 HONEY GIVES NEW MEANING
With the continued popularity of Ataulfo mangos in U.S., fans have lovingly renamed the mango to "Honey" after its sweet taste and creamy texture.

The Honey mango, one of Mexico's favorite varieties, travels well and is easy to find in the U.S. The golden creamy texture, often described as "buttery," holds up best when sliced or diced. Its tender texture and mildly tart sweetness makes this mango adaptable to many cuisines.




ORIGINS STILL STRONG
Originating through the cross-pollination of several varieties in the Soconusco region of Chiapas, Mexico, this small yellow variety was originally named "Ataulfo" after the grower Ataulfo Morales Gordillo. The Soconusco region is the designated origin for Ataulfo mangos by the Mexican Institute of Industrial Property, similar to origin designations for certain Italian cheeses or champagne from France.




PROMINENT MEXICAN CULTURE
The Honey mango is quite compatible with the spice and complexity of Mexican food. Honeys have without doubt become a part of rich culture and cuisine. A common sight among Mexico City streets are vendors and markets filled with authentic foods – commonly mangos, as paletas (popsicles), helados (ice creams), macaroons, candies and simple dried fruit snacks.

This delicious treat from Mexico makes its way to American grocery markets from March through June.

For more information on Honey mangos, please check out our Varieties page.